| | | |
| --- | --- | --- |
| FLYBY ALERT! Space shuttle Discovery launched on May 31st. Get your flyby alerts from Space Weather PHONE | | |
OCCUPIED: The International Space Station's zero-gravity toilet is working again. Yesterday, astronauts replaced a malfunctioning gas-liquid separator pump and, after a series of three tests, the replacement appears to be a success. Mission Control Moscow has given the station crew a 'go' to resume normal operations of the toilet system.
EMERGING MOON: When the sun sets tonight, go outside and look west. A beautifully-slender crescent moon is emerging from the twilight: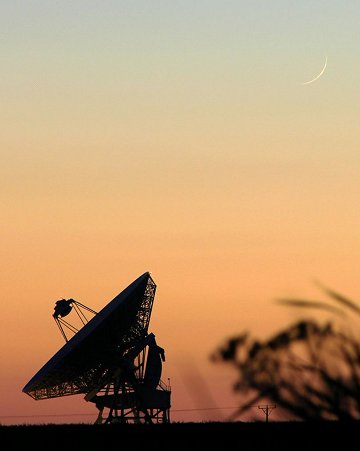 Piotr Majewski of Toruń, Poland, snapped the photo on June 4th. It shows the 2% crescent Moon hovering above a radio telescope at the Toruń Centre for Astronomy. "Wow," says Majewski. "A one-day old Moon in the evening sky. I've been waiting for this moment for a long time."
There are more good moments to come. In the evenings ahead the Moon will move up the sky, a little higher each night, forming a line with Mars and Saturn on June 5th and 6th, joining Mars for a close encounter on June 7th, and triangulating with Saturn and Regulus on June 8th. Keep an eye on the Moon this weekend!
more images: from Doug Zubenel of De Soto, Kansas; from Anthony Ayiomamitis near the Temple of Poseidon, Sounion, Greece; from Elias Chasiotis of Markopoulo, Greece; from P-M Hedén of Vallentuna, Sweden; from Tunç Tezel of Bolu, Turkey;
SUMMER ARCS: 'tis the season for circumhorizon arcs. These big, colorful ice halos appear only when the sun is more than 58-degrees above the horizon--in short, during the hottest part of long summer days. Here is an example photographed on May 28th by Paul Gitto of Whiting, New Jersey: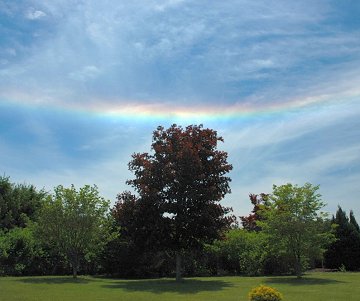 "The halo lasted about two and a half hours and was one of the most awesome sights I have ever seen," he says. "The colors and brightness were amazing."
With the approach of the summer solstice, and ever higher northern suns, sightings of the circumhorizon arc will reach a fever pitch. These arcs are commonly called "fire rainbows," but they have nothing to do with fire or rain. The pure spectral colors are created by sunlight beaming through plate-shaped ice crystals in high cirrus clouds.
"The circumhorizon arc is a very large halo," adds atmospheric optics expert Les Cowley. "Usually only fragments are visible where there happen to be cirrus clouds. Look for it close to, and parallel to the horizon," he advises.
more images: from Lisa Gonnelli of Pilesgrove, New Jersey; from Andrew Kirk of Tom's Place, California; from Wenling of Lhasa, Tibet; from Bob Ohle of Wadsworth, Illinois; from Roman Vanur of Nitra, Slovakia; from Aymen Ibrahem at the Bibliotheca Alexandrina, Alexandria, Egypt;
---