| | | |
| --- | --- | --- |
| NEW AND IMPROVED: Turn your iPhone or iPod Touch into a field-tested global satellite tracker. The Satellite Flybys app now works in all countries. | | |
NORTHERN LIGHTS: A solar wind stream is buffeting Earth's magnetic field. High latitude sky watchers should be alert for auroras.
WHAT ARE THE ODDS? Last night in Minburn, Iowa, photographer, Tom Bailey pointed his camera at the Pleiades and opened the shutter. Within 30 seconds, a spaceship bisected the star cluster followed shortly thereafter by a disintegrating clump of comet dust. Unlikely? Here's the photo: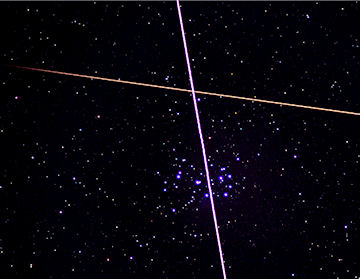 Photo details: Nikon D5000, Nikon 135mm lens, f2.0, 30s
The image was part accident, part design. "I positioned myself at a location where the International Space Station would pass directly in front of the Pleiades," says Bailey. "Right on schedule, I spotted it creeping up over the trees and making a beeline for the cluster. Just as it passed, an unexpected meteor streaked across the field of view. Wow!"
Wow, indeed. Seek out your own crossings using the Simple Satellite Tracker. And don't forget, there's an app for that, too.
more images: from Christopher Calubaquib of El Sobrante, California; from Dan Bush of Evona, Missouri; from Jeff Lebold of Oshawa, Ontario, Canada
TIDAL WAVE! Tsunamis, such as the one spawned by the recent 8.8 magnitude earthquake in Chile, are often mistakenly called "tidal waves." In fact, tides and tsunamis have little in common. One is caused by the gravitational pull of the sun and moon; the other is caused by the rumbling geology of our own planet.
To find a real tidal wave, go to the Severn river in Gloucestershire, UK: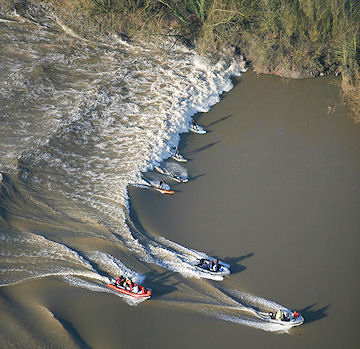 "On March 2nd we experienced a 'five star' tidal bore on the river Severn," reports photographer Jamie Cooper. "It was caused by a large spring tide combined with the funneling effect of the Severn Estuary. There was a carnival atmosphere with hundreds of spectators watching and surfers risking life and limb to ride the wave! News organizations covered the event extensively."
"This is all a result of the sun and moon, of course, so I hope it qualifies as space weather." Indeed, responds the editor, space weather reaches even into the rivers of England. Click here for more images.
---
UPDATED: March Northern Lights Gallery
[previous Marches: 2009, 2008, 2007, 2006, 2005, 2004, 2003]