| | | |
| --- | --- | --- |
| Where's Saturn? Is that a UFO--or the ISS? What's the name of that star? Get the answers from mySKY--a fun new astronomy helper from Meade. | | |
WONDERFUL WEDNESDAY: This morning began with a beautiful display of planets: Mercury, Venus and the slender crescent Moon gathered in a tight knot beneath the bright gaze of Jupiter. The quartet beamed brightly through the rosy glow of dawn.
But wait, the show's not over. In broad daylight, today, Venus and the crescent Moon will converge until there is only a sliver of blue sky between them. Anthony Ayiomamitis of Athens, Greece, sends this picture of a similar encounter last year over Europe: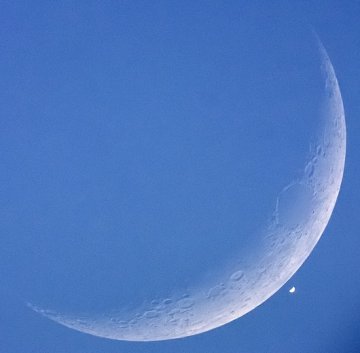 "It is amazing how Venus can be picked out during the day and in spite of the brightness of the local sky when a large target such as the moon is nearby to help our eyes focus properly for infinity," says Ayiomamitis.
Today's Moon is a pale and slender 5% crescent, which could make it difficult to find in the bright blue sky. Try this: Command your GOTO telescope to slew to Venus. The planet and Moon will materialize together in the eyepiece. In parts of North America west of the Mississippi River, the Moon will actually pass in front of Venus causing the planet to disappear between about 2:30 pm and 3:30 pm CST (2030 and 2130 GMT). Occultation timetables for many US towns and cities may be found here.
AROUND THE SUN: Looking straight at the Sun is not a good idea. But looking around it has its rewards. "Today I saw the most amazing pastel clouds very close to the sun," reports Martin Mc Kenna of Maghera, N. Ireland. "I used my sun glasses held in front of the camera for these images."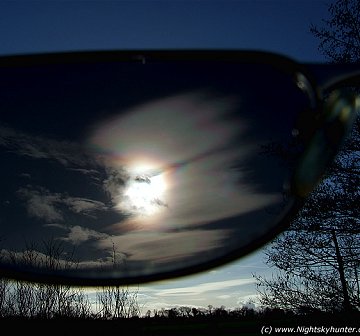 The colored rings hugging the sun are caused by water in the cloud. Tiny droplets diffract sunlight to produce a lovely circumference of pastel shades called a corona. Coronas and their cousins, iridescent clouds, grace the sky with regularity, but we often miss them because the glare of the sun makes us look away. (Tip: Get shades!)
more images: from Mike Conlan at Blackcomb Glacier, Whistler, British Columbia, Canada; from Zoltan Goda of Baja, Hungary; from Giorgio Saporiti Jr of Gallarate, Varese, Italy; from Martin Popek of Bystrice Nad Olsi, Czech Republic; from Doug Zubenel of Johnson Co., Kansas; from Yasmin Angélique Walter of Observatorio del Teide, Tenerife, Spain;