| | | |
| --- | --- | --- |
| Where's Saturn? Is that a UFO--or the ISS? What's the name of that star? Get the answers from mySKY--a fun new astronomy helper from Meade. | | |
SOLAR ECLIPSE: On Thursday, Feb. 7th, there will be a partial solar eclipse over New Zealand, Antarctica and parts of Australia. Anyone in the area with a solar telescope can watch the mountainous lunar limb glide across the Sun's fiery surface while crescent-shaped sunbeams dance at their feet--a marvelous experience. The highlight of the eclipse occurs along an Antarctic "path of annularity" where the Sun and Moon combine to produce a vivid ring of fire. Stay tuned for photos! [eclipse map] [timetables]

ISS ROBOTIC ARM: Last night, the International Space Station flew over the Netherlands where Ralf Vandebergh was waiting with his 10-inch telescope and a digital camera. This snapshot is the result: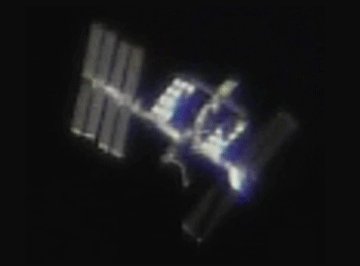 Click to view a movie of the station "twinkling."
"The flyby was at a good angle to capture the station's robotic arm," he notes. It is the elbowed projection about halfway between the port and starboard solar arrays. Named Canadarm after its country of origin, "the arm is an important tool for construction of the space station."
Canadarm is about to get a workout. On Thursday, Feb. 7th, space shuttle Atlantis is scheduled to rocket into orbit carrying a new laboratory module for the space station. Canadarm will muscle the 22,700 pound, 23-foot long laboratory into place with assistance (mostly encouragement) from spacewalking astronauts.
"This was a test-shot for imaging the upcoming mission," says Vandebergh. The countdown is underway.
GOLDEN WAVES: Standing on the back deck of his house in the Santa Monica mountains of California, photographer Gary Palmer bent over his Coronado SolarMax90 to peer into the heart of sunspot 982. And what did he see? "A field of wheat in a wind storm!" Or so it seemed: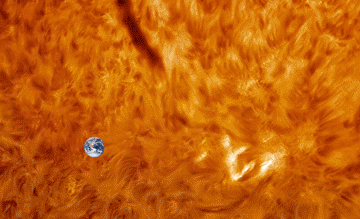 Earth inserted for scale. Click to view the full-sized (9 MB) movie.
Palmer's IMAX-style movie gives a whole new meaning to "golden waves of grain." The motions are not, however, waves of wheat but waves of magnetism. Magnetic fields just above the sun's boiling surface shimmy back and forth, guiding Texas-sized jets of gas this way and that in a mesmerizing dance accessible to anyone with a back deck and a solar telescope.
---
2008 Aurora Photo Gallery
[Night-sky Cameras] [Aurora Alerts]