ISS FLYBYS: If you live in North America, be alert for the ISS this week. The International Space Station is making a series of bright passes over the continent, visible in the evening sky if you know when to look. Check the Simple Satellite Tracker for flyby times.
TERRIFYING CLOUDS: In ancient times, solar eclipses terrified superstitious onlookers. The sun turning into an inky-black hole in the sky couldn't be a good sign, could it? Now we know better.
Yet last Friday, moments before totality, thousands of modern sky watchers felt like ancient peasants. They were frightened by the clouds: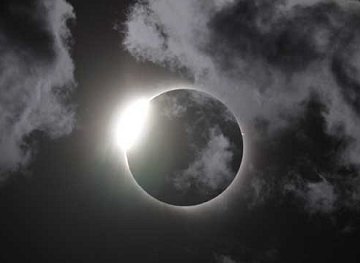 "We almost missed the eclipse," says David Leong of Yiwu, China. "This picture shows the terrifying cloud that almost covered the Sun."
Fortunately, the overcast was incomplete. The Moon's cool shadow swept across the landscape, the sun's mysteriously-hot corona sprang into view, and thousands of cameras were heard to click. Two tembling minutes later, it was over, but the gallery continues to grow.
UPDATED: Solar Eclipse Photo Gallery
[interactive eclipse map]
NEW MEXICO FIREBALL: This morning, Aug. 4th, a bright fireball streaked across the skies of New Mexico. Amateur radio astronomer Thomas Ashcraft captured its flight using an automated all-sky camera. Moreover, using receivers tuned to 61 and 83 MHz, he recorded the "sweet stereophonic shimmering" echoes of distant radio stations bouncing off the fireball's ionized trail. Click on the snapshot for a movie with sound: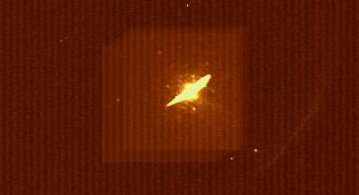 As regular readers know, the annual Perseid meteor shower begins this week, slowly at first, with no more than a few meteors per hour, then building to a peak of dozens to hundreds per hour on Tuesday, August 12th. The source of the shower is Comet Swift-Tuttle, which has littered the August portion of Earth's orbit with space dust.
But "this fireball was not a Perseid," notes Ashcraft. It did not fly out of the constellation Perseus as a genuine speck of Comet Swift-Tuttle would do. Instead, it was probably a random piece of comet or asteroid, not part of any organized debris stream. Every hour of every night, a few such "sporadic meteors" can be seen from any location on Earth. Most are feeble, but some produce brilliant fireballs, as shown.
Keep an eye on the sky in the nights ahead. The rate of meteors great and small is on the rise.
more images: from Peter van Leuteren of Roque de los Muchachos - La Palma, Spain; from Mark Seibold of Portland, Oregon; from Brian Emfinger of Ozark, Arkansas; from Bob Dzuricky of Erie, Pennsylvania