| | | |
| --- | --- | --- |
| All-inclusive Northern Lights trips in Tromsø, Norway. Small groups, big experiences! Highly qualified guides ensure unique and unforgettable adventures with a personal touch. Visit Explore the Arctic | | |
GEOMAGNETIC STORM PREDICTED: NOAA forecasters say there is a 55% chance of G1-class geomagnetic storms on May 6th when a stream of solar wind is expected to hit Earth's magnetic field. The gaseous material is flowing from a wide hole in the sun's atmosphere. High-latitude sky watchers should be alert for auroras, particularly in the southern hemisphere where deepening autumn darkness favors the visibility of Southern Lights. Free: Aurora Alerts.
MARS ROCKET MAY PRODUCE NOCTILUCENT EXHAUST: NASA is about to do something it has never done before. On Saturday morning, May 5th, sometime between 4:05 a.m. and 6:05 am PDT, the space agency will attempt to launch a rocket to Mars from the west coast of the USA. Liftoff of the Atlas 5 carrying the InSight Mars lander will create a plume widely visible around Southern California . This movie shows where to look:
Residents from as far north as Bakersfield to perhaps as far south as Rosarito, Mexico, may see the Atlas rocket rising in the predawn sky and then heading south, parallel to the coastline.

That's not all. The Atlas 5 might also create a display of man-made noctilucent clouds, which sometimes appear after early-morning rocket launches. Tiny ice crystals in a rocket's exhaust can catch the rays of the distant rising sun, producing luminous forms in the dark pre-dawn sky. These forms can have striking iridescent colors, although they are typically electric-blue. Sample photos may be found here, here and here. Noctilucent clouds from previous launches at Vandenberg have been seen as far away as Arizona.

If NASA does not launch the rocket on May 5th because of weather or other problems, they could try again the next day. Launch windows are available from May 5th through June 8th. Stay tuned for updates.
Realtime Space Weather Photo Gallery
FAR-OUT MOTHER'S DAY GIFT: Nothing says "I Love You" like a heart-shaped pendant from the edge of space. On Dec. 31, 2017, the students of Earth to Sky Calculus flew an array of cosmic ray sensors to the stratosphere onboard a giant helium balloon. This Mother's Day gift went along for the ride: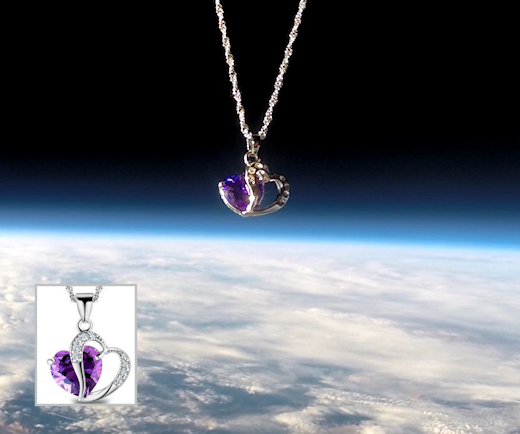 You can have it for $119.95. The students are selling these pendants as a fund-raiser for their cosmic ray monitoring program. All proceeds support atmospheric radiation measurements and hands-on STEM education.
Each pendant comes with a greeting card showing the jewelry in flight and telling the story of its journey to the stratosphere and back again. Mom-satisfaction guaranteed.
Far Out Gifts: Earth to Sky Store
All proceeds support hands-on STEM education
SUNSPOTS VANISHING FASTER THAN EXPECTED: Sunspots are becoming scarce. Very scarce. So far in 2018 the sun has been blank almost 60% of the time, with whole weeks going by without sunspots. Today's sun, shown here in an image from NASA's Solar Dynamics Observatory, is typical of the featureless solar disk: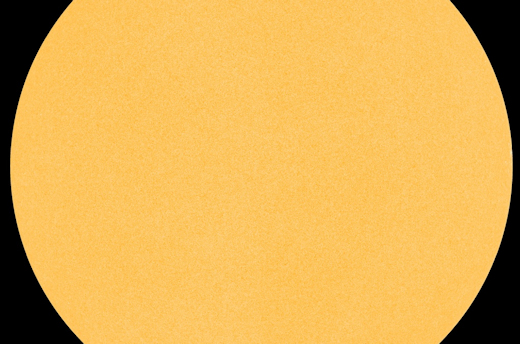 The fact that sunspots are vanishing comes as no surprise. Forecasters have been saying for years that this would happen as the current solar cycle ("solar cycle 24") comes to an end. The surprise is how fast.
"Solar cycle 24 is declining more quickly than forecast," stated NOAA's Space Weather Prediction Center on April 26th. This plot shows observed sunspot numbers in blue vs. the official forecast in red: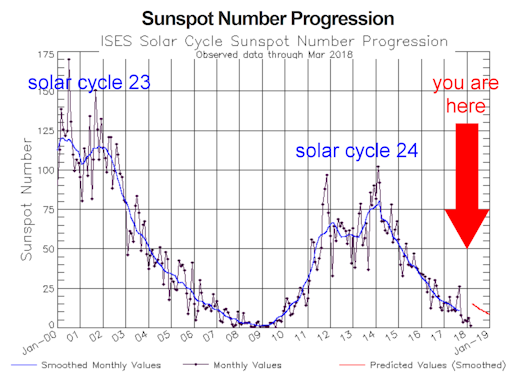 "The smoothed, predicted sunspot number for April-May 2018 is about 15," says NOAA. "However, the actual monthly values have been lower."
"Official" forecasts of the solar cycle come from NOAA's Solar Cycle Prediction Panel–a group of experts from NOAA, NASA, the US Air Force, universities and other research organizations. They have been convening at intervals since 1989 to predict the timing and intensity of Solar Max. The problem is, no one really knows how to predict the solar cycle. The most recent iteration of the panel in 2006-2008 compared 54 different methods ranging from empirical extrapolations of historical data to cutting-edge supercomputer models of the sun's magnetic dynamo. None fully described what is happening now.
CONTINUE READING THIS STORY....
---
Every night, a network of
NASA all-sky cameras
scans the skies above the United States for meteoritic fireballs. Automated software maintained by NASA's Meteoroid Environment Office calculates their orbits, velocity, penetration depth in Earth's atmosphere and many other characteristics. Daily results are presented here on Spaceweather.com.
On May. 4, 2018, the network reported 16 fireballs.
(8 sporadics, 7 eta Aquariids, 1 eta Lyrid)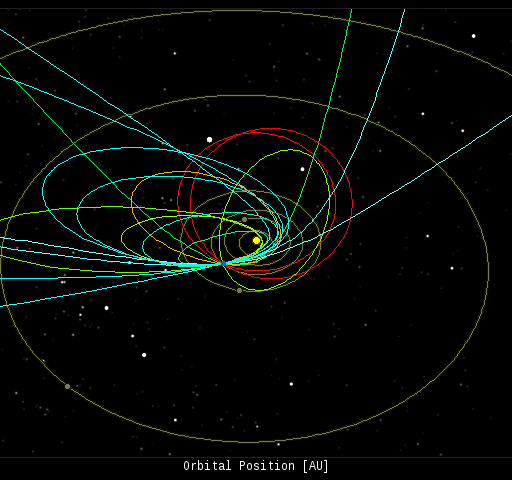 In this diagram of the inner solar system, all of the fireball orbits intersect at a single point--Earth. The orbits are color-coded by velocity, from slow (red) to fast (blue). [Larger image] [movies]
Potentially Hazardous Asteroids (
PHAs
) are space rocks larger than approximately 100m that can come closer to Earth than 0.05 AU. None of the known PHAs is on a collision course with our planet, although astronomers are finding
new ones
all the time.
On May 4, 2018 there were
1907
potentially hazardous asteroids.

Recent & Upcoming Earth-asteroid encounters:
Asteroid

Date(UT)

Miss Distance

Velocity (km/s)

Diameter (m)

2013 US3

2018-Apr-29

10.1 LD

7.7

214

2018 GO4

2018-Apr-29

11.8 LD

8.6

40

2018 GY1

2018-Apr-29

13.2 LD

16.7

139

2018 FV4

2018-Apr-29

17.7 LD

6.5

59

2002 JR100

2018-Apr-29

10.8 LD

7.7

49

2018 HF2

2018-Apr-30

18.6 LD

6.8

20

2018 HM2

2018-Apr-30

8.8 LD

6.5

65

2018 HB1

2018-May-02

10.1 LD

9.2

38

2018 HR1

2018-May-04

17.4 LD

16.4

51

1999 FN19

2018-May-07

9.7 LD

5.7

118

2016 JQ5

2018-May-08

6.3 LD

10.4

9

388945

2018-May-09

6.5 LD

9

295

2018 GR2

2018-May-11

13.4 LD

9.8

111

1999 LK1

2018-May-15

13.3 LD

10

141

2018 GL1

2018-May-18

14.3 LD

5.2

66

68347

2018-May-29

9.5 LD

13.3

389

2013 LE7

2018-May-31

17.8 LD

1.7

12

2018 EJ4

2018-Jun-10

5.6 LD

6.2

195

2015 DP155

2018-Jun-11

9 LD

4.4

170

2017 YE5

2018-Jun-21

15.6 LD

15.5

513

467309

2018-Jun-23

17.9 LD

14

355

441987

2018-Jun-24

7.3 LD

12.6

178