| | | |
| --- | --- | --- |
| NEW AND IMPROVED: Turn your iPhone or iPod Touch into a field-tested global satellite tracker. The Satellite Flybys app now works in all countries. | | |
METEORS FROM HALLEY'S COMET: The eta Aquarid meteor shower, caused by dust from Halley's Comet, peaks this year on May 7th. The shower is strongest over the southern hemisphere, where observers could see more than 30 meteors per hour despite the bright light of a waning half Moon. No matter where you live, the best time to look is during the hours before local sunrise on Friday. [full story]
AURORAS INVADE THE USA: A high-speed solar wind stream hit Earth's magnetic field on May 2nd, sparking a geomagnetic storm that lasted more than 15 hours. Red auroras spilled across the Canadian border and were spotted in several US states. Joseph Shaw sends this picture from Bozeman, Montana: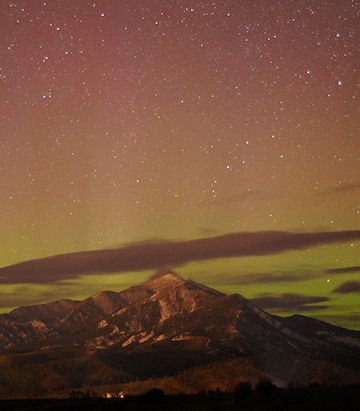 "The red auroras were just visible to the naked eye and easily captured by my Nikon D300," says Shaw. "Excellent treat!"
NOAA forecasters estimate a 45% chance of continued geomagnetic activity over the next 24 hours. High-latitude sky watchers should remain alert for auroras.
NEW: May 2010 Aurora Gallery
[previous Mays: 2008, 2005, 2004, 2003, 2002] [aurora alerts]
SPOTTED SUN: The sun is peppered with spots today. Click on any of the circled regions below, and you will find dark cores: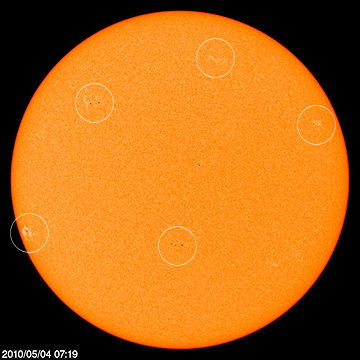 These sunspot groups are not big, but they are remarkably numerous. The last time five such groups appeared simultaneously was more than four years ago--before the Great Solar Minimum of 2008-2009. Slowly but surely, it seems, the sun is coming back to life.
more images: from Stephen Ames of Hodgenville, KY