| | | |
| --- | --- | --- |
| Turn your cell phone into a field-tested satellite tracker. Works for Android and iPhone. | | |
AURORA ALERT: A solar wind stream hit Earth's magnetic field during the late hours of Feb. 4th, sparking a G2-class (Kp=6) geomagnetic storm, in progress. High-latitude sky watchers should be alert for auroras, especially during the hours around local midnight.
Current aurora images: from Cristina Albuerne of Gimsøy, Lofoten, Norway; from Beate Kiil Karlsen of Norway;
CLOSE-APPROACHING ASTEROID: A small (4-5 meter) asteroid discovered earlier today by R. A. Kowalski of the Catalina Sky Survey will pass by Earth on Feb. 4th around 19:40UT at a distance of 11855 km. 2011 CQ1 will not hit Earth, but it will pass well inside the Clarke Belt of geosynchronous satellites. [more]
AFTER THE STORM: US skies are clearing in the aftermath of this week's monster winter storm. But "clear" is not the same as "empty." Sky watchers are seeing an unusual number of sundogs. Doug Koehler photographed these yesterday in Davenport, Iowa: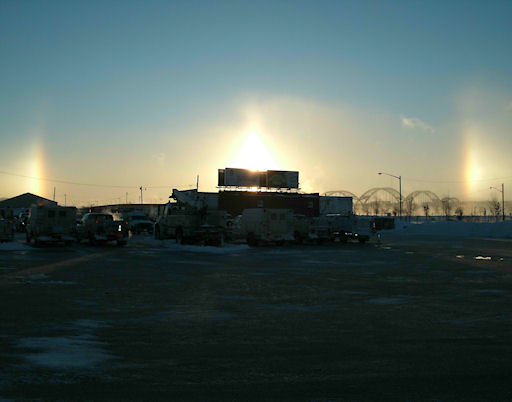 "These brilliant sundogs appeared in the early morning sub-zero fog just off the Mississippi river," says Koehler. "They lasted about 20 minutes before fading away. The camera doesn't do justice to how colorful they were."
Sundogs and their cousins, sun pillars, are caused by ice crystals in the air. And if there's one thing North Americans have a lot of, it's icy air. Indeed, the dog and pillar show is likely to continue for at least six more weeks.
more images: from Dave Merritt of Middletown, Indiana; from Sid Murthy of Laramie, Wyoming; from Patty of Davenport, Iowa
SOLAR SAIL FLARES: NASA's new solar sail, NanoSail-D, is circling Earth and attracting the attention of sky watchers--especially when it flares. Sunlight glinting off the sail's reflective fabric can rival the brightest stars, making a sudden and luminous streak across the night sky. Here it is over Rautalampi, Finland, on Jan. 30th: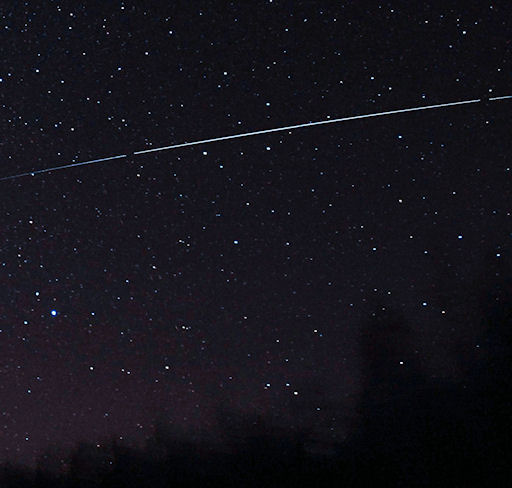 Photo details: Nikon D70s, 18 mm/f/3.5, ISO 1600, 30 sec exposures
"At its peak, the flare was magnitude +3.5, easily seen with the naked eye," says photographer Vesa Vauhkonen. "I was able to photograph the event using an ordinary digital camera (a Nikon D70s)."
On the same night, NanoSail-D flared even more brightly over Helsinki, Finland. A meteor camera operated by Esko Lyytinen caught the sail flashing almost three times brighter than a 1st magnitude star: image.
Future flares could dwarf these. NanoSail-D is skimming the top of Earth's atmosphere and slowly descending as it circles the planet. As the spacecraft gets closer to Earth and aerodynamic forces flatten the fabric into an ever-better reflector, flares are likely to intensify, theoretically exceeding the brightness of Venus as much as 100-fold (5 magnitudes). Photograph one of those and you just might win $500.
more images: from Enzo De Bernardini of Buenos Aires, Argentina; from Arto Oksanen of Jyväskylä, Finland; from Mika Järvinen of Finland
---
January 2011 Aurora Photo Gallery
[previous Januaries: 2010, 2009, 2008, 2007, 2005, 2004]