| | | |
| --- | --- | --- |
| Where's Saturn? Is that a UFO--or the ISS? What's the name of that star? Get the answers from mySKY--a fun new astronomy helper from Meade. | | |
MAMMOTH PROMINENCE: "There's a lovely prominence on the southwestern edge of the Sun today," reports Pete Lawrence of Selsey, UK. "With a little imagination and a solar telescope, you can see a wooly mammoth wandering along the Sun's limb--at least, that's what it looked like to me: photo."
more images: from John Nassr of Baguio, Philippines; from Peter Paice of Belfast, Northern Ireland.

CELESTIAL TRIANGLE: Geometry has never been so lovely. On Monday morning, Feb. 4th, a splendid celestial triangle beamed through the rosy glow of dawn: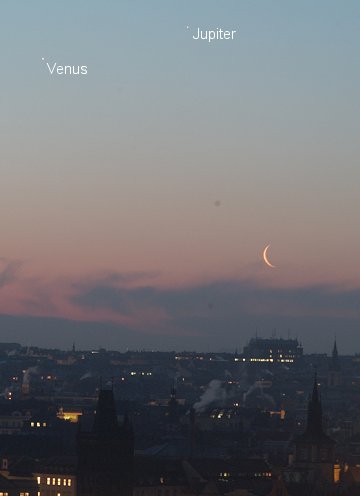 Photographer Robert B Slobins sends this picture of Venus, Jupiter and the Moon in scalene formation over Prague. Is the sun rising where you live? Dash outside and look southeast; the same triangle is waiting for you: sky map.
more images: from Michael Boschat on the roof of Dalhousie University in Halifax, Nova Scotia, Canada; from Babak Tafreshi of Firouzkooh, Iran; from Jan Huisken of San Francisco, California; from Volker Borchers of Zeitlarn, Germany; from Jean-Paul Godard of St Pierre, Martinique island; from Laurent Laveder of Quimper, Bretagne, France; from Becky Ramotowski of Tijeras, New Mexico; from Ginger Mayfield of Divide, Colorado; from Bryan Murahashi of San Jose, Ca; from Remus N. of Bucharest, Romania;
3D BONUS: Grab your 3D glasses. Tom Wagner has prepared a red-blue anaglyph of Venus and Jupiter side-by-side over Waterloo, Iowa, on Feb 1st: image. "I found this arrangement of Venus and Jupiter especially beautiful and wanted to capture the moment in 3D." No 3D glasses? Click here and cross your eyes.
GOLDEN WAVES: Standing on the back deck of his house in the Santa Monica mountains of California, photographer Gary Palmer bent over his Coronado SolarMax90 to peer into the heart of sunspot 982. And what did he see? "A field of wheat in a wind storm!" Or so it seemed: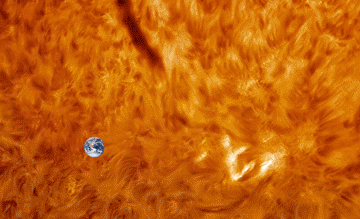 Earth inserted for scale. Click to view the full-sized (9 MB) movie.
Palmer's IMAX-style movie gives a whole new meaning to "golden waves of grain." The motions are not, however, waves of wheat but waves of magnetism. Magnetic fields just above the sun's boiling surface shimmy back and forth, guiding Texas-sized jets of gas this way and that in a mesmerizing dance accessible to anyone with a back deck and a solar telescope.
---
2008 Aurora Photo Gallery
[Night-sky Cameras] [Aurora Alerts]