| | | |
| --- | --- | --- |
| BEHOLD THE SUN: Would you like to see fiery prominences and new-cycle sunspots with your own eyes? On sale now: Personal Solar Telescopes. | | |
REENTRY UPDATE: US Space Command reports that the Early Ammonia Servicer (EAS) probably reentered Earth's atmosphere on Nov. 3rd at 04:51:00 GMT +/- 1 minute over the following coordinates: 48° S, 151° E. That would place the fireball over the Indian Ocean south of Tasmania where sightings are unlikely.
SUNSPOT 1007: Over the weekend, sunspot 1007 grew into a substantial active region with two planet-sized cores connected by dark magnetic filaments thousands of kilometers long. The ensemble bears a curious resemblence to the pipe of Sherlock Holmes: "It's filamentary, my dear Watson!" says Alan Friedman who sends this picture from his backyard observatory in Buffalo, New York: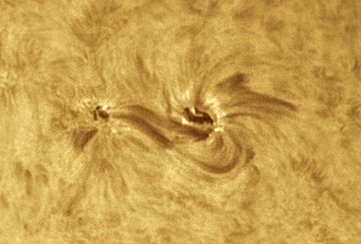 The high latitude and magnetic polarity of sunspot 1007 identify it as a member of new Solar Cycle 24. This is the fourth new-cycle sunspot to breach the sun's surface in the past month. In a year of almost no sunspots, four is significant. It means that the sun is beginning a slow ascent out of solar minimum to a more active phase of the sunspot cycle. Solar minimum is not a permanent condition! Readers, if you have a solar telescope, train it on sunspot 1007 to witness a sign of things to come.
more images: from Larry Alvarez of Flower Mound, Texas; from Stephen W. Ramsden of Atlanta, Georgia; from B. Hustus and J. Stetson of South Portland, Maine; from Peter Paice of Belfast, Northern Ireland; from Pavol Rapavy of Rimavska Sobota, Slovakia
EVENING SKY SHOW: When the sun sets this evening, go outside and look south. The crescent Moon and Jupiter are gathering together for a tight conjunction less than 3o wide. The pair is so bright and eye-catching, you can find them even without a sky map.
Yesterday at sunset in Chiuduno, Italy, Antonio Finazzi photographed the Moon approaching Jupiter: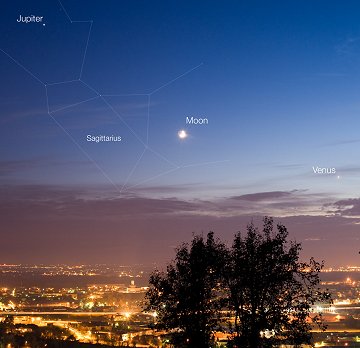 "This is a 6 second exposure at ISO 400," says Finazzi "I used a Nikon D700." Similar settings should work as well for tonight's conjunction.
more images: from Tamas Ladanyi of Budapest, Hungary; from Chris Picking of Masterton, North Island, New Zealand; from David Hanson of Garmisch-Partenkirchen, Germany; from Albert Engert of Uengershausen, Bayern, Deutschland; from Martin Popek of Nýdek, Czech republic; from Tomasz Adam of Staszów, Poland; from Bob Johnson of Saskatoon, Saskatchewan; from Austen L. Onek of Memphis, Tennessee; from Doug Zubenel of De Soto, Kansas; from Antonios Pantelidis of Lake Prespa, Greece; from Mark Stauss of rural Buchanan county, Missouri;
---
Oct. 2008 Aurora Gallery
[Previous Octobers: 2007, 2006, 2004, 2003, 2002, 2001, 2000]