VOTE FOR SOHO: The Solar and Heliospheric Observatory (SOHO) is on the cusp of losing the semi-final round of NASA's Mission Madness tournament.Vote now for a spaceweather favorite and propel SOHO to the finals!
ISS MOON TRANSIT: The International Space Station has grown so big and bright, you can see it even when it is directly in front of the Moon. Oscar Martin Mesonero of Salamanca, Spain, took this picture on April 1st: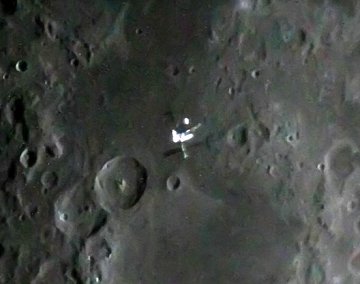 "I recorded the transit using my 8-inch Celestron telescope and a Canon EOS 50D," says Mesonero. "The ISS was much brighter than the lunar background."
His snapshot caught the space station passing over the Sea of Nectar (Mare Nectaris). Just to the north of the transit path is the Sea of Tranquility where Apollo 11 astronauts landed 40 years ago. The ISS seems so close to lunar soil that the crew could hop out for a visit of their own. In fact, the Moon is about 384,000 km away from the Earth-orbiting spacecraft. Astronauts won't be truly close to Nectar until 2020.
The ISS will join the Moon in the evening sky again this weekend. Check the Simple Satellite Tracker for viewing times.
more images: from Thorsten Boeckel of Fuerstenfeldbruck, Germany; from P. Nikolakakos of Nafplio, Greece; from Joe Westerberg of Palm Springs, California; from Oscar Martin Mesonero of Salamanca, Spain
POLLEN CORONAS: "The 2009 season for pollen coronas has begun," says Peter Paul Hattinga Verschure of the Netherlands. He photographed the onset from his garden in Deventer: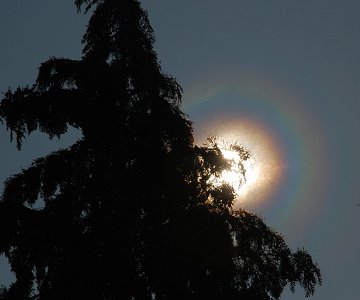 "On April 1st, clouds of pollen were blown out of the pine tree by a dry northeasterly wind," he says. "When the pollen passed in front of the sun, an intensely colorful corona formed."
Coronas appear when sunlight is scattered by very small particles in the air. The most common coronas are produced by water droplets in clouds. Pollen grains work just as well--and in some ways they are even better.
"Unlike water droplets, pollens are non-spherical--and this adds to their magic," explains atmospheric optics expert Les Cowley. "Many have air sacs to help carry them in the wind. These align the grains to give beautiful elliptical coronas with bright spots."
Is there pollen in the air where you live? Be alert for coronas!
---
March 2009 Aurora Gallery
[previous Marches: 2008, 2007, 2006, 2005, 2004, 2003, 2002]
---