| | | |
| --- | --- | --- |
| Where's Saturn? Is that a UFO--or the ISS? What's the name of that star? Get the answers from mySKY--a fun new astronomy helper from Meade. | | |
AURORA WATCH: High-latitude sky watchers should be alert for auroras on April 5th and 6th. That's when a solar wind stream is due to hit Earth's magnetic field. A similar encounter on March 27th produced Northern Lights over the United States as far south as Michigan and Oregon: gallery.
HISTORIC DOCKING: The ESA's new robotic cargo carrier, the Jules Verne, docked with the International Space Station today at 10:45 am EDT. The joining is an historic event. Jules Verne uses its own artificial intelligence and optical sensors for navigation and it is the first spacecraft to perform a fully-automated rendezvous with the space station. No humans guided the precision maneuvers of docking. Moments before contact, astronauts onboard the ISS took this picture: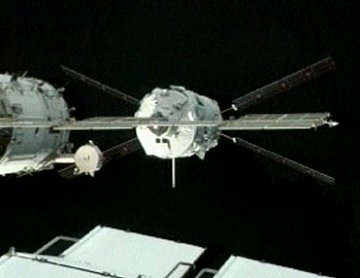 "I am incredibly proud of and pleased for our European partners," says NASA Administrator Michael Griffin. "Only Russia has previously achieved a successful automated docking in space. The success of the [Jules Verne] marks the arrival of Europe as a full-fledged space power."
Jules Verne is laden with 4.6 tons of much-needed supplies including 270 kg of drinking water and 21 kg of oxygen. After docking, the cargo ship can use its powerful engines to reboost the ISS as needed and when Jules Verne eventually leaves in August it will take away a substantial load of garbage. Jules Verne is number one in a series of future Automated Transfer Vehicles or "ATVs" that will prove crucial to ISS operations after the space shuttle retires in 2010.
BONUS: "Last Friday, using a 30-inch telescope in Munich, we tracked Jules Verne flying just behind the ISS," report German astronomers Josef Huber, Tobias Lindemann and Klaus Nagel. "With a magnitude of about 0, it was brighter than we expected and we obtained a clear photo showing the outlines of the cargo carrier: click here."
MOON WRECK: Last month, on March 8th, Doug Zubenel decided to photograph the slender crescent moon from a scenic spot in the country near his home in Kansas. He turned his car onto an unfamiliar dirt road and proceeded into the sunset. That's when it happened: "The brilliant setting sun did not allow me to see the cement railings on a bridge over a small creek until I was very close. The next thing I knew, I had totaled my car."
Unscratched and undaunted, Zubenel got out, phoned the tow truck and, while he was waiting for the Sheriff, took the picture: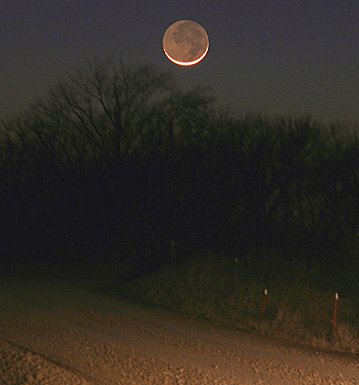 Another crescent moon like this one is due on April 6th and 7th. It will materialize low in the west as the sun sets and the sky darkens to cobalt blue. "All we need is clear skies," says Zubenel. And, oh, can anybody spare a ride?
more images: from John Chumack of Dayton, Ohio; from James Champagne of Ramah, Louisiana; from Paul Evans of Larne, Northern Ireland; from Jeffrey Berkes of West Chester, PA
---
March 2008 Aurora Gallery
[Aurora Alerts] [Night-sky Cameras]