| | | |
| --- | --- | --- |
| Where's Saturn? Is that a UFO--or the ISS? What's the name of that star? Get the answers from mySKY--a fun new astronomy helper from Meade. | | |
AURORA WATCH: High-latitude sky watchers, be alert for auroras tonight. A high speed solar wind stream is buffeting Earth's magnetic field and causing geomagnetic storms: gallery.

CELESTIAL TRIANGLE: Geometry has never been so lovely. On Monday morning, Feb. 4th, Venus, Jupiter and the slender crescent Moon will arrange themselves as an exquisite celestial triangle, compact and scalene. Set your alarm for dawn and look southeast for a wonderful view: sky map.
This morning John Baxter of New Concord, Ohio, photographed the Moon en route to Jupiter and Venus: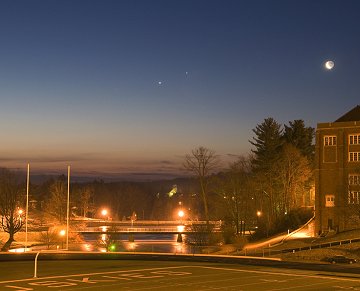 "It was a nice way to begin Super Bowl Sunday," he says.
more images: from Kambiz Khaleghi of Mashhad, Iran; from Carl Blesch of Basking Ridge, New Jersey; from John A Modricker of Cape Cod Canal-Sagamore, Maine; from Yagiz Ozgur Turkkan of Bahcesehir, Istanbul, Turkey; from Ari Koutsouradis of Westminster, Maryland;
3D BONUS: Grab your 3D glasses. Tom Wagner has prepared a red-blue anaglyph of Venus and Jupiter gathered together over Waterloo, Iowa, on Feb 1st: image. "I found this arrangement of Venus and Jupiter especially beautiful and wanted to capture the moment in 3D." No 3D glasses? Click here and cross your eyes.
WINGS OF ICARUS: Yesterday in the Netherlands, Emiel Veldhuis looked through his Personal Solar Telescope and saw "the wings of Icarus!" Such was the appearance of two magnetic filaments spreading from the core of sunspot 982: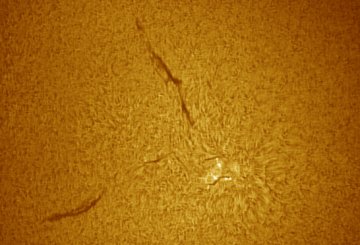 "In Greek mythology, Icarus took flight on homemade wings made of feather and wax, but he flew too close to the Sun," says Veldhuis. "The wax melted and Icarus crashed in the sea. Now the wings have returned; will he never learn?"
These Icarian filaments "extend over a third of the sun's visible surface," report observers John Stetson and B. Turner of South Portland, Maine. The feathery structures dwarf Earth itself, and because they do not rely on wax for their integrity, they are sure to last another day. If you have a solar telescope, take a look!
more images: from Francisco A. Rodriguez Ramirez of Observatorio Montaña Cabreja, Gran Canaria - Canary Islands; from Franck Charlier of Marines, Val d'Oise - France; from Joel Bavais of Anvaing, Belgium; from Matthias Juergens of Gnevsdorf, Germany; from Michael Borman of Evansville, Indiana; from Cai-Uso Wohler of Bispingen, Germany; from John Boyd of Santa Barbara, CA;
---
2008 Aurora Photo Gallery
[Night-sky Cameras] [Aurora Alerts]