LUNAR PERSEIDS: Amateur astronomers watching last month's Perseid meteor shower saw meteoroids hitting not only Earth but also the Moon. The impacts, which they recorded using backyard telescopes and off-the-shelf video cameras, are featured in today's story from Science@NASA.
KASATOCHI MOON: Colorful sunsets caused by the August eruption of Alaska's Kasatochi volcano are still underway in the United States and Europe. Last night, however, "the crescent Moon stole the show," says Edmund E Kasaitis, who sends this picture from Manchester, Maryland: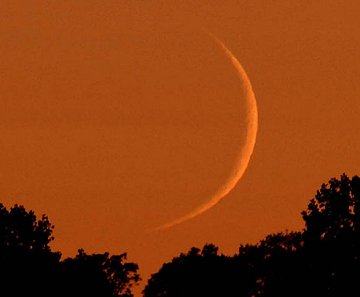 Compared to previous nights, "the sunset colors and rays seem to have subsided a bit," notes Kasaitis. This could be a result of east winds in the stratosphere carrying Kasatochi's aerosols away from the United States and toward Europe. Indeed, last night in Vallentuna, Sweden, P-M Hedén witnessed an advance of strange high clouds and a new wave of volcanic colors: photos. "It was a lovely sight!"
No matter where you live, look west at tonight's sunset. The crescent Moon is out again and, if the winds are willing, it might be a Kasatochi Moon.
more images: from Bill Jamison of San Diego, CA; from Kevin Jung of Grand Rapids, Michigan; from Christian Pierson of North Ridgeville, Ohio; from Doug Zubenel near De Soto, Kansas; from Adam Kraft of Jackson, Michigan; from Andrew Catsaitis of Peats Ridge, NSW, Australia; from Rick Gens at Starved Rock State Park in Utica, Illinois; from Jeffrey Berkes at the Assateague Island National Seashore, Maryland; from Tom Soetaert of Lawrence, Kansas; from Karen Webb of Ridgecrest, California; from Scott Sparrow of Pasadena, CA; from David Smoyer of Truckee, CA;
STEAM DEVILS: Alert. Steam devil season is underway. In late Summer-early Fall when waters are still warm but morning air is growing cold, little tornadoes of steam are often seen dancing across lake surfaces. Iowa photographer Mike Hollingshead caught this one at sunrise on August 29th: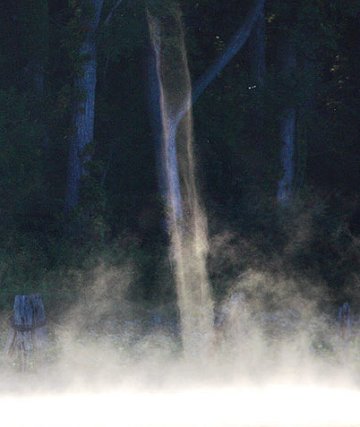 "I saw these amazing devils on a small lake near DeSoto Bend," he says. "The rapid motion in them can be rather captivating if you can get a close enough view; my 400mm lens did the trick."
Steam devils appear when vapor released by a warm lake condenses rapidly in cooler air above. Light winds spin condensing plumes of steam into dancing columns. The bigger the lake, the bigger the devils. Steam devils on Lake Superior have been observed to rise 1500 ft tall!
"These steam devils really seem to prefer the morning shadow line of some trees along the lake shore," notes Hollingshead. "Differential heating must help them get started there." The devilish fog also provided a photogenic backdrop for the crescent Moon and created a crepuscular sun corona: photos. "This is a good time of year to wake up early."
---
August 2008 Aurora Gallery
[Science@NASA: Plasma Bullets Spark Northern Lights]