TWILIGHT PLANET HUNT: When the sun goes down tonight, grab your binoculars and scan the western horizon. Venus and the whisper-thin crescent Moon are hiding in the rosy glow of sunset. You probably won't be able to see them with the unaided eye, but they are there, a bright and pretty sight through optics. Good hunting!
PROTO NEW-CYCLE SUNSPOT: A sunspot from the next solar cycle could soon appear in the sun's northern hemisphere. SOHO magnetograms show an emerging magnetic dipole with the telltale polarity of Solar Cycle 24: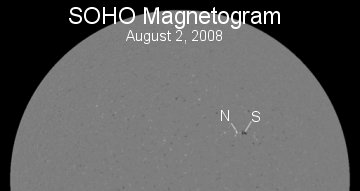 So far this is merely a proto-sunspot; the magnetic fields have not coalesced to form a truly dark sunspot core. Nevertheless, the little active region is significant. It is a herald of new Solar Cycle 24, and a sign that the solar cycle, while seemingly stuck in endless minimum, is actually progressing normally. The calm won't last forever!
Readers with solar telescopes, keep an eye on the proto-sunspot.
more images: from Cai-Uso Wohler of Bispingen, Germany; from Stephen Ames of Hodgenville, Kentucky
MAGNIFICENT CORONA: The sun's wispy, dancing, mysteriously-hot outer atmosphere is one of the prettiest sights in the heavens. The trick is seeing it. Under normal circumstances, blinding sunlight hides the corona from sensitive human eyes. Yesterday, however, was not normal: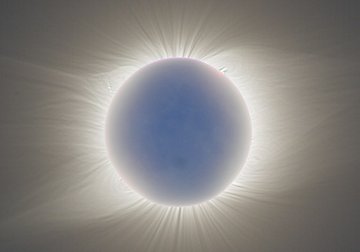 Hartwig Luethen took the picture on August 1st when the Moon passed directly in front of the sun, briefly revealing the corona for all to see. To photograph the eclipse, Luethen stationed himself in Kochenovo, west of Novosibirsk, Russia, deep inside the path of totality. "I used a Canon 350D to make 24 exposures varying in length from 1/500 to 2 seconds." The resulting composite shows the ghostly corona, a magnetic prominence surging over the lunar limb, and the Earthlit surface of the Moon itself. Browse the gallery for more corona shots:
Solar Eclipse Photo Gallery
[interactive eclipse map]