| | | |
| --- | --- | --- |
| Can you drop a probe on a comet? A new iPhone game from NASA's Jet Propulsion Laboratory puts you in control of the Rosetta spacecraft as it prepares to intercept Comet 67P/Churyumov-Gerasimenko. Download it now. | | |
VENUS INVADES THE PLEIADES: This week, Venus and the Pleiades star cluster will meet in the evening sky for a rare and beautiful conjunction. Get the full story from Science@NASA. Images: #1, #2, #3, #4, #5.
SPONTANEOUS AURORAS: Solar activity is low, but solar storms are not always required to make auroras appear around thee Arctic Circle. Ole C. Salomonsen photographed this spontaneous display last night over Tromsø, Norway: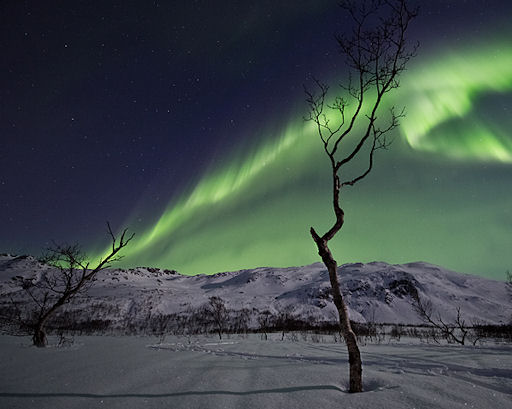 "No auroras were forecast, but when the magnetograms at the University of Tromsø started to move, and I thought I should go outside for a look," says Salomonsen. "At times the display was very vivid and strong!"
The reason for this show was the interplanetary magnetic field, or IMF. On April 1st the IMF tipped south, opening a crack in Earth's magnetospherre. Solar wind poured in to fuel the auroras. (So the sun was involved after all.)
more images: from Matt Melnyk of Edmonton, Alberta, Canada; from B.Art Braafhart of Salla, Finnish Lapland
SPRITE SEASON BEGINS: The first sprites of summer are starting to appear in the skies of North America. The strange thing is, summer is almost three months away. "Sprite season is beginning early this year," says Thomas Ashcraft, who photographed these specimens on March 30th from his observatory in New Mexico: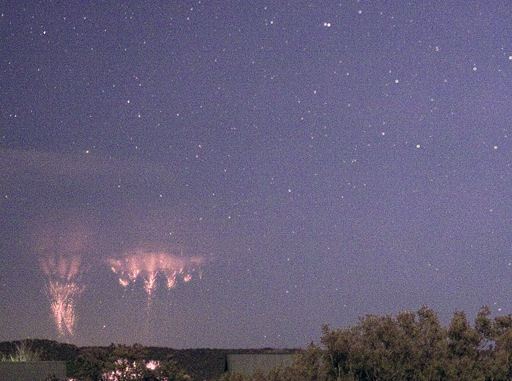 "At precisely two minutes and twenty-six seconds after midnight March 30, 2012 there was an incredibly powerful bolt of lightning in the vicinity of Woodward, Oklahoma that spawned these red sprites," says Ashcraft. "I could see them from two states away!" He also recorded VLF and shortwave radio emissions from the cluster, which you can hear as the soundtrack to this video.
Sprites are electrical discharges that come out of the top of thunderclouds, opposite ordinary lightning bolts which plunge toward Earth. Sprites can tower as high as 90 km above ground. That makes them a form of space weather as they overlap the zone of auroras, meteors, and noctilucent clouds.
Because they are associated with lightning, sprites are most often seen in summer months, "but in the past few days sprites have been reported in Texas (particularly near the Mexican border) as well as here in New Mexico," notes Ashcraft.
So if there's lightning where you live, be alert for sprites.
---
February 2012 Aurora Gallery
[previous Februaries: 2011, 2010, 2009, 2008, 2007, 2006, 2004, 2003, 2002]