DEEP SOLAR MINIMUM: How low can it go? According to NASA, the sun is plunging into the deepest solar minimum in a century. A new spotless days counter on spaceweather.com is keeping track of the record-setting quiet. Look for it beneath the Daily Sun.
SPACE STATION ECHO: On Tuesday night, the International Space Station flew over the southwestern United States where it was "pinged" by the powerful USAF Space Surveillance Radar. Ham radio operator Stan Nelson of Roswell, New Mexico, recorded the 217 MHz echo. Click on the dynamic spectrum to listen: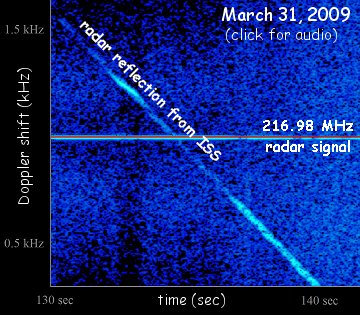 ISS Radar Echo on March 31st: audio | spectrum
What was that you just heard? The constant tone is the CW (continuous wave) signal broadcast skyward by the radar. The descending tone is the radar's doppler-shifted reflection from the ISS.
"A friend and I were observing last night using my Meade telescope when he mentioned that the ISS was due to make a flyby," says Nelson. "I quickly set up my radar monitoring system to record the audio. We then watched the ISS glide through the starry sky east of Roswell as the loudspeaker played the radar signal--very enjoyable! The sound is reminiscent of a space shuttle reflection I captured a few years back."
The ISS is making a series of bright flybys over North America this week. It's fun to watch even without a soundtrack. Check the Simple Satellite Tracker for viewing times.
NEW VERB: There's a new verb in Alaska: "to ash." It's like "to snow," only grayer and more sulfurous. Residents downwind of Mt. Redoubt are using it like this: "We don't run our ski lifts when it ashes because it damages the electric motors," says Michelle Cosper of the Alyeska Resort near Girdwood. It's been ashing a lot lately as Mt. Redoubt has erupted more than 19 times since March 22nd. "The ash has created a moonscape with all the highlights of gray," she says.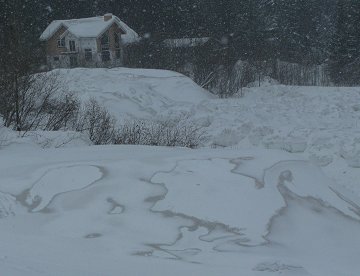 The resemblance to moondust is more than superficial. Consider the following: Volcanic ash is gray, abrasive, can be dangerous to breathe and easily electrified. Moondust is gray, abrasive, can be dangerous to breathe and easily electrified. Indeed, Alaskans are getting a taste of life on the Moon.
"The ski area may or may not be open tomorrow, depending on ash fall," adds Cosper. "My throat is sore and stingy, and it smells vaguely like sulfur. They say not to walk your dogs or go outside unnecessarily. Even local newscasters are wearing face masks."
To ash or not to ash? According to the Alaska Volcano Observatory, another eruption is imminent.
VOLCANIC CLOUD TRACKING: The GOME-2 (Global Ozone Monitoring Experiment) sensor onboard Europe's MetOp-A satellite is tracking Mt. Redoubt's sulfur dioxide clouds. Follow the red pixels in this 7-day animation and be alert for fantastic sunsets when the clouds pass over your area.
---
March 2009 Aurora Gallery
[previous Marches: 2008, 2007, 2006, 2005, 2004, 2003, 2002]
---