| | | |
| --- | --- | --- |
| Where's Saturn? Is that a UFO--or the ISS? What's the name of that star? Get the answers from mySKY--a fun new astronomy helper from Meade. | | |
AURORA WATCH: High-latitude sky watchers should be alert for auroras on or about April 5th. That's when a solar wind stream is due to hit Earth's magnetic field. A similar encounter on March 27th produced Northern Lights over the United States as far south as Michigan and Oregon: gallery.
JULES VERNE & THE ISS: "We were at the perfect place at the perfect time," writes Andrew Greenwood from Cheshire, England. "On the first Tuesday of every month, the Macclesfield Astronomical Society meets at the world-famous Jodrell Bank Observatory. Towards the end of yesterday evening, the clouds parted long enough for us all to stand beneath the mighty Lovell telescope and watch Jules Verne and the International Space Station (ISS) silently glide by." He recorded the scene in a 60-second exposure with his Nikon D50: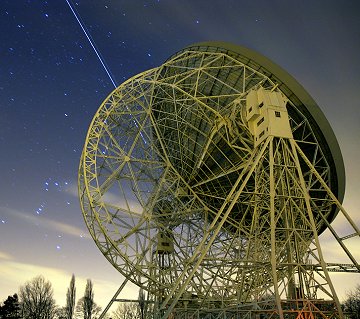 "The ISS was particularly striking as it flickered on and off as it flew 'through' the metal structure of the telescope. It reminded me of how the Pleiades, seen behind winter trees, have been likened to 'fireflies in a tangled braid.' We all agreed that it was certainly a memorable observation, so much so that as the spacecraft disappeared into the Earth's shadow we gave them a round of applause!"
Another round of applause goes to European Space Agency engineers who built the remarkable Jules Verne. The robotic cargo carrier is able to maneuver around the ISS with pinpoint precision using its own onboard intelligence and optical sensors; human guidance is not required. Verne's historic first automated docking with the ISS takes place on April 3rd.
more images: from Dave Storey of Douglas, Isle of Man, Great Britain; from Martin McKenna of Maghera, Co. Derry, N. Ireland; from Richard Buckley of Llanferres, Clwyd, North Wales; from Steve Holmes of Laxfield, Suffolk, UK; from Martin Gembec of Jablonec n.N. - Kokonín, Czech Republic;
MOON WRECK: Last month, on March 8th, Doug Zubenel decided to photograph the slender crescent moon from a scenic spot in the country near his home in Kansas. He turned his car onto an unfamiliar dirt road and proceeded into the sunset. That's when it happened: "The brilliant setting sun did not allow me to see the cement railings on a bridge over a small creek until I was very close. The next thing I knew, I had totaled my car."
Unscratched and undaunted, Zubenel got out, phoned the tow truck and, while he was waiting for the Sheriff, took the picture: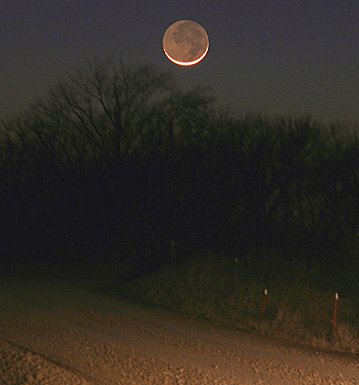 Another crescent moon like this one is due on April 6th and 7th. It will materialize low in the west as the sun sets and the sky darkens to cobalt blue. "All we need is clear skies," says Zubenel. And, oh, can anybody spare a ride?
more images: from John Chumack of Dayton, Ohio; from James Champagne of Ramah, Louisiana; from Paul Evans of Larne, Northern Ireland; from Jeffrey Berkes of West Chester, PA
---
March 2008 Aurora Gallery
[Aurora Alerts] [Night-sky Cameras]