| | | |
| --- | --- | --- |
| SATELLITE FLYBYS APP: Turn your iPhone or iPod into a field-tested satellite tracker! Spaceweather.com presents the Satellite Flybys app. | | |
SUNGRAZING COMET ALERT: The Solar and Heliospheric Observatory (SOHO) is tracking a comet that is about to make a perilous close approach to the sun: movie, labels. Will the icy visitor survive? Click here for the latest image. (Note: The comet was discovered by Australian amateur astronomer Alan Watson in images taken by NASA's STEREO-A spacecraft.)
FIRST METEORS OF 2010: The annual Quadrantid meteor shower peaks on Jan. 3rd around 1900 UT (2 pm EST) when Earth passes through a stream of debris from shattered comet 2003 EH1. The timing of this northern shower favors observers in eastern Europe and Asia. Bright moonlight will interfere with the display, which can reach 100+ meteors per hour under ideal conditions. In North America, where the peak occurs in daylight, it may be possible to hear the shower on meteor radar. Tune into Space Weather Radio for live echoes.
SNAP, CRACKLE, POP: Sunspot 1039 is putting on a good show for amateur astronomers. "The active region sizzled and popped as I photographed it on Dec. 31st," reports Michael Buxton of Ocean Beach, California. Click on the image to view two hours of action: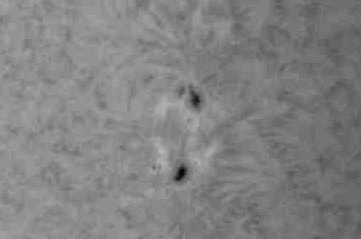 "It is quite interesting to watch as energy surges and swirls around the sunspot's dark cores," he says.
2010 appears to be picking up where 2009 left off--with sunspot activity on the rise. Readers with solar telescopes are encouraged to monitor developments.
more images: from Eric Roel of Valle de Bravo, México; from Pete Lawrence of Selsey, West Sussex, UK; from Matt Wastell of Brisbane, Australia; from Michael Borman of Evansville, Indiana; from Chris Schur of Payson, Arizona;
BLUE MOON ECLIPSE: Blue moons--rare. Blue moons on New Year's Eve--really rare. A lunar eclipse of a Blue Moon on New Year's Eve--well, that's just ridiculous.
Yet that's exactly what happened on Dec. 31st in Europe, Asia, Africa and parts of Alaska. The Blue moon on New Year's Eve passed through the outskirts of Earth's shadow, producing this 8% lunar eclipse: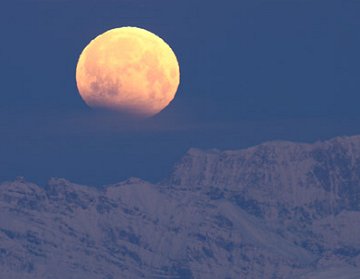 "The eclipsed 'Blue moon' rose over the Alaska Range just before sunrise," says photographer Calvin Hall of Palmer, Alaska. "It was a beautiful sight."
For the record, the average annual rate of blue Moons is 0.37 per year. The rate of Blue moons on New Year's Eve is 0.05 per year. The rate of lunar eclipses of Blue moons on New Year's Eve is 0.01 per year. Click on the link below to browse a very rare gallery:
UPDATED: Blue Moon Eclipse Gallery
[Science@NASA: Blue Moon on New Year's Eve]
---
December Northern Lights Gallery
[previous Decembers: 2008, 2007, 2006, 2005, 2001, 2000]
---