| | | |
| --- | --- | --- |
| ANDROID FLYBYS: Our field-tested satellite tracker is now available for Android phones. Features: Global predictions and flyby alarms! Learn more. | | |
SOUTH PACIFIC SOLAR ECLIPSE: Yearning to visit the South Pacific? This is the month to set sail. On July 11th, the Moon will pass directly in front off the sun, producing a total solar eclipse. The path of totality stretches across the south Pacific Ocean, making landfall in only three places: Mangaia (Cook Islands), Easter Island, and the southern tip of South America. Get the details from NASA.
PINWHEEL SUNSPOT: The dark core of sunspot 1084 is twice as wide as Earth itself. More impressive, however, is the enormous swirl of hot gas and magnetic fields suspended overhead. Today's extreme UV image from NASA's Solar Dynamics Observatory reveals the sunspot's pinwheel canopy: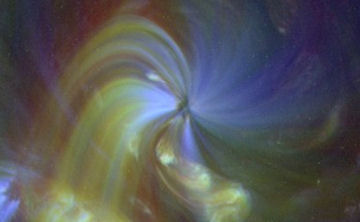 This magnetic architecture must be stable, because sunspot 1084 is remarkably quiet. There hasn't been the slightest hint of a flare from this "active" region for the past two days. It is, however, photogenic. Readers with solar telescopes are encouraged to take a look.
more images: from Peter Desypris of Island of Syros, Greece; from John C McConnell of Maghaberry Northern Ireland; from Andreas Murner of Rosenheim, Bavaria, Germany; from Jan Timmermans of Valkenswaard, The Netherlands; from Michael Boschat of Halifax, Nova Scotia, Canada
STORKS AND SPACE WEATHER: This week, sky watchers in northern Europe are witnessing an intense display of electric-blue noctilucent clouds. It's a veritable "NLC storm." Storks are enjoying the show, too: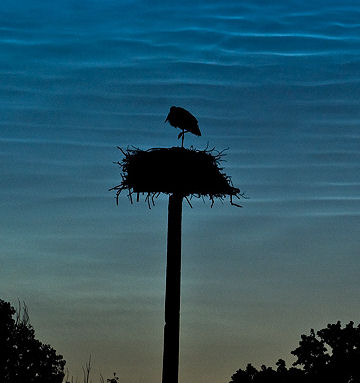 "Each year in late spring, thousands of storks (Ciconia ciconia) arrive in Poland," reports Marek Nikodem of Szubin, Poland. "Last night I caught one nesting during the most beautiful display of NLCs this year."
Summer is the season for NLCs, and the recent solstice seems to have kicked these mysterious clouds into high gear. High-latitude sky watchers should be alert for electric blue after sunset.
more images: from Aurimas Dirse of Vilnius, Lithuania; from Darius Gasiunas of Ignalina, Lithuania; from Janis Satrovskis of Burtnieki, Latvia; from Mariusz Rudziński of Mirostowice Dolne, Poland; from Lars Zielke of Nightsky Observatory, Tvis, Denmark; from Martin McKenna of Maghera, Co. Derry, N. Ireland; from Barbara Grudzinska of Warsaw,Poland
---
Lunar Eclipse Photo Gallery
[Science@NASA: Big Lunar Eclipse] [astronomy alerts]
---
May 2010 Aurora Gallery
[previous Mays: 2008, 2005, 2004, 2003, 2002] [aurora alerts]