| | | |
| --- | --- | --- |
| Where's Saturn? Is that a UFO--or the ISS? What's the name of that star? Get the answers from mySKY--a fun new astronomy helper from Meade. | | |
SOLAR MAX RESCHEDULED: Impatient with the quiet sun, NASA researchers have rescheduled solar maximum. The peak was originally slated for 2012, but now it's going to happen this month. "We've launched millions of dollars worth of spacecraft to study solar activity, and what are we getting? Puny little A-flares and feeble old sunspots," complained a high-ranking source at NASA headquarters. "We need some real explosions! Rescheduling Solar Max should solve the problem." News of the shift was announced on April 1st.
JULES VERNE & THE ISS: Last night, March 31st, the ESA's Jules Verne cargo carrier approached the International Space Station, stopped 12 meters from the docking port, then backed away again. The crew of the ISS took this picture at the moment of closest approach: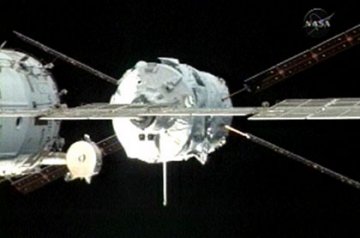 Jules Verne performed these maneuvers as a dress rehearsal for actual docking on April 3rd and, significantly, it did them with no human guidance. The robotic spacecraft relied on its own optics and onboard intelligence. "This is a world premier for automated rendezvous using optical sensors," says ESA project manager Nicolas Chamussy. "The performance of the vehicle was even better than we had hoped."
While all this was happening in Earth orbit, sky watchers on Earth witnessed the spacecraft converge and withdraw in the night sky. "What a beautiful sight," reports Michel Vandeputte of Kluisbergen, Belgium. "The ISS was very bright (magnitude -3) and the Jules Verne peaked at magnitude +0. They [crossed the sky and] disappeared in Ursa Major."
more images: from Martin Gembec of Jablonec n.N. - Kokonín, Czech Republic; from John Murrell of Carshalton, Surrey, England; from Jaroslav Grnja of Kulpin, Serbia; from Dave P Smith of Bluebell Hill, Chatham, England; from Bill Wilson of Essex, UK; from Pavol Rapavy of Rimavska Sobota, Slovakia; from Patrick Bornet of St Martin sur Nohain, Nièvre, France; from Gustavo Maia of Goiania, Goias, Brazil;
ICE PENCILS: Ice crystals in clouds come in all shapes and sizes. One of them is the ice pencil. Six-sided crystals that resemble pencils sometimes produce sun pillars with a distinctive triangular top: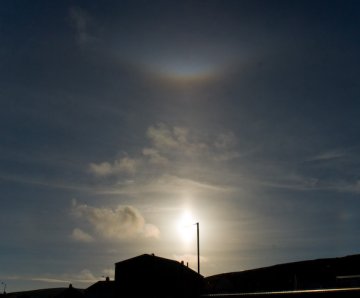 The triangle is properly called an upper tangent arc. "This is the first time I've seen one," says Austin Taylor of Lerwick, UK, who took the picture on March 30th using his Nikon D200. The show continued one hour after sunset when Taylor saw "a wonderful triangular pink patch among the clouds." Atmospheric optics expert Les Cowley believes "the early tangent arc and pillar were formed by column crystals and they lingered to form the same after sunset."
more images: from Phillip Chee of Peterborough, Ontario, Canada; from Signe S. Flugsrud of Oslo, Norway; from Robert Malmström of Reutlingen, Germany; from Geir Øye of Ørsta, Norway; from Mike Sessions of Mauna Kea, Big Island Hawaii;
---
March 2008 Aurora Gallery
[Aurora Alerts] [Night-sky Cameras]