ASTEROID FLYBY: Newly-discovered asteroid 2009 DD45 is about to fly past Earth only 73,000 km away (0.2 LD). The space rock is about 35 meters in diameter, similar in size to the Tunguska impactor of 1908. At closest approach on March 2nd, around 1400 UT (6 a.m. PST), 2009 DD45 will speed through the constellation Virgo shining as brightly as an 11th magnitude star. Experienced amateur astronomers can track the asteroid using this ephemeris.
SATELLITE DEBRIS: The Feb 10th collision of Kosmos 2251 and Iridium 33 over northern Siberia had an uneven effect on the two satellites. Both were shattered, but Kosmos was broken into twice as many trackable pieces as Iridium, and the Kosmos pieces were scattered into a significantly wider band of orbits: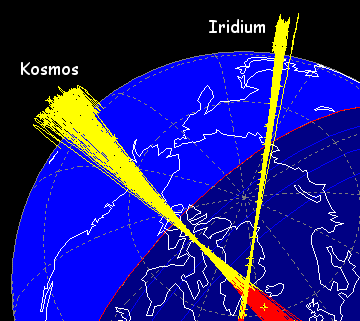 This debris map, created by Daniel Deak of Canada, traces the orbits of 129 Iridium and 275 Kosmos fragments. A side-view of the Kosmos data illustrates the degree to which the Russian satellite is "polluting" the near-Earth environment. "Kosmos fragments range in altitude from 227 km to 1690 km," notes Deak. For comparison, "the Iridiuim fragments are more tightly confined between 525 km and 1265 km."
NASA is reportedly concerned about the risks these debris streams pose to the space shuttle Atlantis when it visits the Hubble Space Telescope for servicing in mid-May 2009. The agency is evaluating the situation; click here for status reports.
Updated debris maps: #1, #2, #3, #4, #5
BLUE STAR, GREEN COMET: Yesterday, Feb. 28th, Comet Lulin executed a beautiful flyby of the first-magnitude star Regulus in Leo. The color difference between the blue star and the green comet was striking in this photo taken by Alessandro Dimai of Cortina d'Ampezzo, Italy: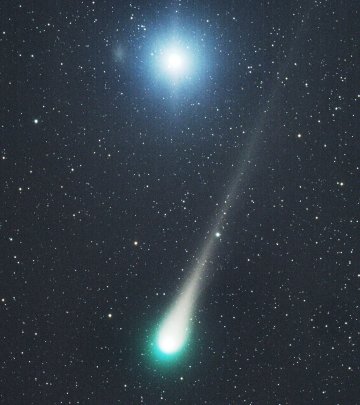 "The comet gliding by Regulus was a wonderful sight," he says.
The color of Regulus is a sign of heat: Regulus is a young, massive star that burns fiercely blue-hot. The color of Comet Lulin is a sign of cold: The comet's atmosphere contains cyanogen (CN, a poisonous gas) and diatomic carbon (C2)--two substances that glow green when exposed to sunlight in the cold vacuum of space. Browse the gallery for the latest color photos:
Comet Lulin Photo Gallery
[Comet Hunter Telescope] [Sky maps: March 1, 2]
---
February 2009 Aurora Gallery
[Previous Februaries: 2008, 2007, 2006, 2004, 2003, 2002]
---