GEMINID METEOR SHOWER: The annual Geminid meteor shower peaks on Dec. 13th and Dec. 14th when Earth passes through a stream of debris from extinct comet 3200 Phaethon. Bright moonlight will reduce the number of visible meteors from the usual 100/hr to only 20/hr or so. That's still a nice show. For best results, watch the sky starting 10 pm local time on Saturday night (Dec 13th) until dawn on Sunday morning (Dec. 14th). [live updates] [photo]
SOMETHING NEW: Spaceweather.com is broadcasting a live audio stream from the Air Force Space Surveillance Radar in Texas. When a Geminid meteor passes over the facility, the radar echo sounds like this. Our experimental system can support 1000 simultaneous listeners. Give it a try; feedback welcomed.
GOODBYE PERIGEE MOON: Last night's full Moon was the biggest of the year, a "perigee moon" 14% wider and 30% brighter than lesser full Moons earlier in 2008. "We really didn't think we would notice the difference, but it did look bigger than usual!" says Raquel S. of Cocoa, Florida. "My whole family just watched in awe."
It's gone now, though. Elias Chasiotis photographed it this morning setting behind a hillside in Markopoulo, Greece: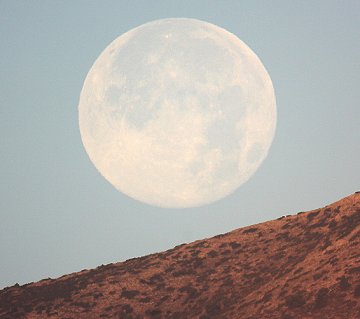 Good-bye, perigee Moon!
In case you missed the show, another perigee full Moon is coming on Jan. 10, 2009. Just as last night's full Moon was the biggest of 2008, the Jan. 10th full Moon will be the biggest of 2009. Mark your calendar.
more images: from John Stetson of Sebago Lake, Maine; from Larry Fischer of Topeka, Kansas; from Kevin Witman of Cochranville, Pennsylvania; from Glenn Johnson of Tallahassee Florida; from Bill Bradley of West Hempstead, New York; from Anthony Ayiomamitis of Athens, Greece; from Carl Bernhardt of Riverside, California; from Paulo Neiva of Praia da Aguda, Portugal; from Bill Davis of Albuquerque, New Mexico; from Michael Prokosch of Huntsville, Texas; from Mariusz Lemiecha of Warsaw, Poland; from Oscar Martín Mesonero of Salamanca, Spain; from Doug Zubenel of De Soto, Kansas;
NEW ICE HALOES: Ice haloes are normally found high in the sky among frosty clouds. But lately researchers in Finland have been making their own halos near the ground. They do it by shining halogen lamps into the air downwind of snow-making machines: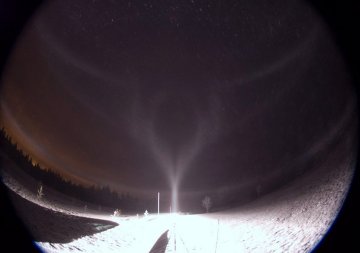 Marko Riikonen of Rovaniemi, Finland, created these fantastic "angel wings" on November 5, 2008. It's more than just a pretty picture; the wings represent a serious attempt to discover new haloes and to understand old ones.
Atmospheric optics expert Les Cowley explains: "Early researchers had to rely on chance sightings of rare displays to unravel the mysteries of ice halos. Later on they journeyed to Polar Regions and especially the South Pole where halos are at their finest. They explained the halos well using models of geometrically perfect crystals aligned in just a few ways in the sky. But mysteries remain. For instance, rare Lowitz arcs refuse to be fully understood, while perfect crystals cannot explain new arcs like Moilanen's or the elliptical halos."
"Now researchers in Finland have new lamps and tools. Working at night they use halogen beams to light the high-quality crystals found a mile or more downwind of ski-slope snow guns. It's almost (but not quite!) a laboratory where the crystals can be collected, examined and compared with the halos they make. Careful lamp and camera placement lets the 'sun' be raised or lowered and even halos normally invisible beneath our feet can be projected into the dark sky. In just one night a few days ago Marko Riikonen captured several new halos. Marko Mikkilä is even experimenting with a home-made 'Halogun.'"
"The new methods are starting to teach us that nature is richer than we thought. There are new halos galore, some from crystals with special shapes and others needing particular orientations. Will the new tools 'clean up' halo research or remove their mystery? More likely, they will reveal yet more puzzles. But at the same time greater understanding will be gained which will enhance the beauty and enchantment of the halos we all see from that 'old lamp' – the sun."
---