Did you sleep through the auroras of November? Next time get a wake-up call: Spaceweather PHONE.
MAJOR FLARE: Earth-orbiting satellites detected a major X9-class solar flare this morning at 1035 UT (5:35 a.m. EST). The source: big, new sunspot 930*, which is emerging over the Sun's eastern limb. GOES-13 captured this X-ray image of the blast: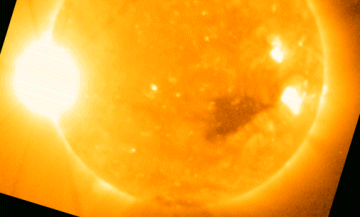 Because of the sunspot's location near the limb, the flare was not Earth-directed. Future eruptions could be, however, because the Sun's spin is turning the spot toward Earth. Sunspot 930 will be visible for the next two weeks as it glides across the solar disk.
*Correction: Initially, we reported that the X9-class flare came from sunspot 929. The correct number is sunspot 930.
EGYPTIAN TORNADO: Yesterday at the Bibliotheca Alexandrina in Alexandria, Egypt, astronomer Aymen Ibrahem dashed outside during a rainstorm "hoping to photograph a rainbow." Instead he found himself face-to-face with a rare Egyptian tornado: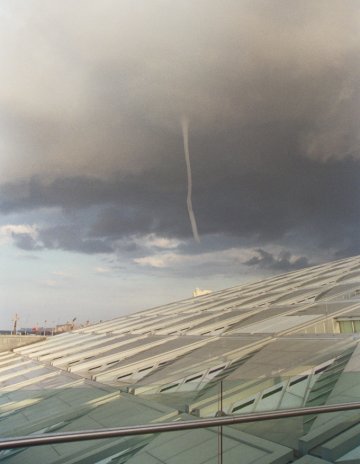 "The last tornado in this part of Egypt happened in 1981," says Ibrahem.
Strong tornadoes are born in rotating thunderstorms called supercells. To make a supercell, you need a cold, dry mass of polar air crashing into a warm, moist mass of tropical air. These two kinds of air frequently meet in the mid-section of the United States--hence Tornado Alley. But they rarely meet in Egypt.
Indeed, there was no supercell over Alexandria yesterday. The twister Ibrahem saw was probably a lesser form of tornado called a "funnel cloud," which didn't even reach the ground. Nevertheless, "I was lucky to catch it," he says.
Click to view the
Worldwide Distribution of Tornadoes