AURORA WATCH: High latitude sky watchers should be alert for auroras tonight. Earth is entering a dense solar wind stream and this could trigger geomagnetic storms around the Arctic Circle.
ISS TOOLBAG: When Endeavour astronaut Heidemarie Stefanyshyn-Piper dropped her toolbag during a spacewalk on Nov. 18th and it floated away, mission controllers probably thought they'd seen the last of it. Think again. Amateur astronomers have been monitoring the backpack-sized toolbag as it circles Earth not very far from the International Space Station. (continued below)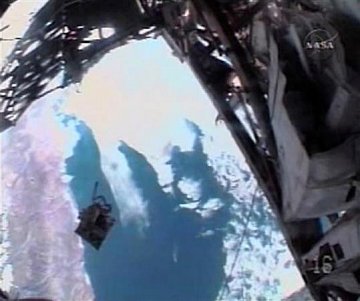 Above: NASA TV footage of the runaway toolbag.
After sunset on Nov. 22nd, Edward Light saw the bag using 10x50 binoculars as it sailed over his backyard in Lakewood, New Jersey. "It was quite a favorable 70-deg pass in clear skies," he says. "The visual magnitude of the bag was about +6.4 plus or minus half a magnitude." On the same night, Keven Fetter of Brockville, Ontario, video-recorded the bag zipping past the 4th-magnitude star eta Pisces: 900 kB movie. "It was easily 8th magnitude or brighter," says Fetter.
This week the toolbag is making a series of passes over Europe; late next week it will return to the evening skies of North America. Using binoculars, look for it flying a few minutes ahead of the ISS. Spaceweather's satellite tracker is monitoring both the space station and the tool bag; click here for predictions.
PLANET PILLARS: Venus and Jupiter are so bright, they do things normally reserved for the sun and Moon. For instance, they make pillars. Inspect the elongated shape of the planets in this Nov. 24th photo taken at sunset by Laurent Laveder of Gouesnac'h, France: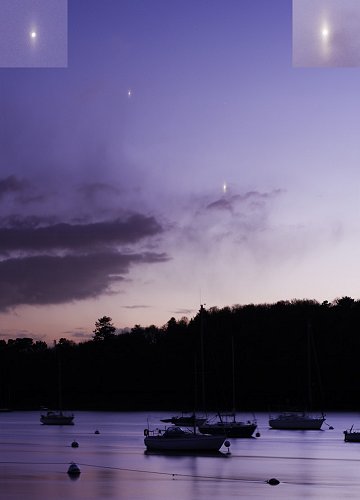 Photo details: Canon 40D, 2.5 sec, 400 ISO
Pillars are caused by ice crystals floating in high clouds. When a bright light shines through such a cloud, the flat surfaces of plate-shaped crystals reflect the light up and down to form luminous columns. Usually the bright light is the sun or Moon; in this case it was Venus and Jupiter.
Readers, you'll want to keep an eye on these planets in the evenings ahead. They're converging for a spectacular conjunction with the Moon at the end of the month. No one has ever photographed a triple pillar before, but a display could be in the offing. Sky maps: Nov. 25, 26, 27, 28, 29, 30, Dec 1.
more images: from Lauri Kangas of Caledon, Ontario, Canada; from Antonio Finazzi of Chiuduno, Bergamo, Italy; from Brian Hudson of Charleston, South Carolina; from Thierry Demange of Erstein, Alsace, France; from Gary A. Becker of Coopersburg, Pennsylvania; from Masa Nakamura of Otawara, Tochigi, Japan; from Bob Johnson of Saskatoon, Saskatchewan; from Paul Evans of Larne, Northern Ireland; from Tamas Ladanyi of Veszprem, Hungary;
---
Nov. 2008 Aurora Gallery
[Previous Novembers: 2007, 2006, 2004, 2003, 2001, 2000]