Autumn is here, and it's a wonderful time for stargazing. Find out what's up from Spaceweather PHONE.
MORE MERCURY: Last week's Transit of Mercury is over, but the photos keep coming. Click here to view the latest additions to our gallery.
AROUND THE SUN: If this happened at midnight, it would be big news for sky watchers. Instead it's happening at noon when no one can see it.
"It" is a stunning close encounter between the two brightest planets: Venus and Jupiter will be less than 0.5o apart on Nov. 15th. The get-together is happening just left of the Sun: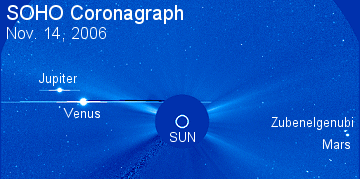 While humans cannot see the event, SOHO can. The spacecraft's coronagraph blocks the sun's glare, revealing not only Venus and Jupiter but also Mars and Zubenelgenubi having their own close encounter. There's a lot going on around the sun: Join SOHO for a ringside seat.
ALASKAN PILLAR: Deep in the interior of Alaska, Keane Richards paused to watch the sun set on Nov. 4th when, suddenly, a luminous pillar appeared: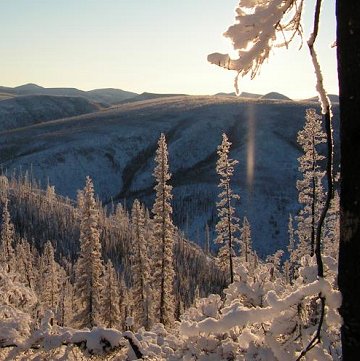 The sun is behind the snowy branch. More images: #1, #2, #3
"This was one of the best sun pillars I've seen," says Richards. "Small snowflakes from high clouds seemed to cause it."
"These are really lovely images," says atmospheric oprics expert Les Cowley. "Large plate shaped ice crystals fluttering and wobbling as they drifted down through the cold clear air made this lower sun pillar. Wobbly crystals blur most halos but they make sun pillars taller and better."