Where's Saturn? Is that a UFO--or the ISS? What's the name of that star? Get the answers from mySKY--a fun new astronomy helper from Meade.

REPAIR SHOPS FOR BROKEN DNA: When high-energy particles from solar flares penetrate the cells of astronauts, what happens to the broken DNA? NASA scientists have discovered microscopic repair shops for mending the damage: full story.

115 YEARS AND COUNTING: On the evening of Nov. 6, 1892, amateur astronomer Edwin Holmes was scanning the night sky above his backyard in England when he spotted something no one had ever seen before: an exploding comet. One hundred and fifteen years later, Comet 17P/Holmes is exploding again. "This sequence of images shows the dramatic expansion in just nine days," say photographers Imelda Joson and Edwin Aguirre of Woburn, Massachusetts.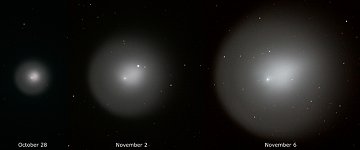 What would cause a comet to explode and then do it again 115 years later? That is the great mystery of Comet Holmes. "It's amazing to think that the light we see now comes from the same object that was also bursting more than a century ago," say Joson and Aguirre.
"We recorded these images using an 8-inch Meade telescope and a Canon EOS 20D digital camera. The comet now nearly fills the camera's field of view, but its surface brightness has decreased since the explosion began on Oct. 23, 2007. In fact, we had to boost the camera's ISO setting from 400 to 1600 in order to record the same level of brightness during the 30-second exposure as we did in late October."
The expanding comet is increasingly dilute, but it is still visible to the unaided eye and a fine target for binoculars and backyard telescopes. After sunset, look north for a 3rd-magnitude fuzzball in the constellation Perseus: sky map.
Comet 17P/Holmes Photo Gallery
[Interactive World Map of Comet Photos]
[sky map] [ephemeris] [3D orbit] [Night Sky Cameras]

ICE HALOS: Yesterday in the sky above Tijeras, New Mexico, a delicate network of luminous arcs and comet-like jets formed around the sun. "Using a handheld mirror, I made this self portrait of the phenomenon," says photographer Becky Ramotowski: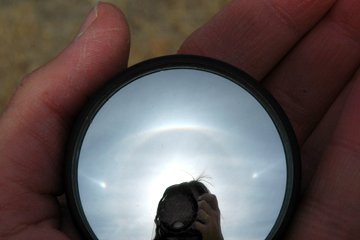 The arcs and jets are actually halos and sundogs created by sunlight passing through ice crystals in the high atmosphere. Not shown in this small mirror is "a complete parhelic circle (one of the most beautiful of all ice haloes) ringing the entire sky," she says.
Becky witnessed this breathtaking display for the simple reason that she paused to look around the sun. Try it. Haloes are more common than you think.