Autumn is almost here, and it's a wonderful time for stargazing. Find out what's up from Spaceweather PHONE.
AURORA WATCH: Earth is exiting a solar wind stream that has been causing auroras over Scandinavia for the past few nights. As the stream subsides, so do the chances of more auroras tonight.
ON THE EDGE: With only one tiny sunspot in view, the face of today's sun is bland territory. The edge of the sun is another matter, as shown in this photo from Harald Paleske of Langendorf, Germany: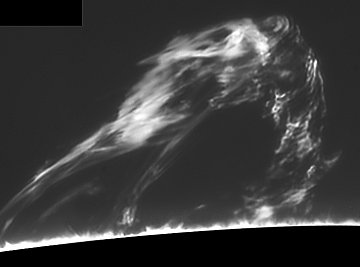 The view through a Unigraph 7-meter focal length solar coronagraph.
"And this was only a small eruption," he says.
"The beauty of today's prominences scattered across the limb left me with my mouth gaping open--before I gained my composure and grabbed my sketchpad," adds Erika Rix of Zanesville, Ohio. Peering through the eyepiece of her Coronado SolarMax60, she made this sketch using "Conte' crayons and white Conte' pencil on black Strathmore Artagain paper."
more images: from Pete Lawrence of Selsey, UK; from Robert Arnold on the Isle of Skye, Scotland.
EMERALD SUNSET: "Tonight I saw one of the most beautiful and long lasting green flashes I've ever seen," says Mila Zinkova of San Francisco, who took this picture on Sept 17th: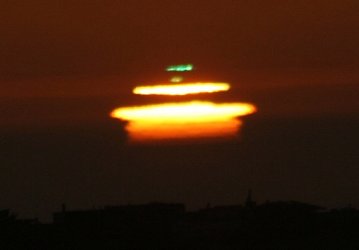 The green flash, a brilliant glint of emerald almost on the ocean horizon just as the sun disappears, relies on a mirage to magnify small differences in refraction between red and green light. This particular sunset "was a very complex mock mirage," says Zinkova. "It seemed that the sun could not get enough of playing with [thermal air layers over the Pacific Ocean] and produced a different shape every moment."
Green flashes, once thought to be a myth, are certainly real. If you live on a western coast, look for them at sunset.