HARVEST MOON: This weekend's full Moon (Sept. 14/15) has a special name--the Harvest Moon. It's the full moon closest to the northern autumnal equinox (Sept. 22). In years past, farmers depended on the light of the Harvest Moon to gather ripening crops late into the night. Post-Edison, we appreciate it mainly for its beauty. Be alert in the nights ahead for Harvest Moon halos, coronas and 'dogs.
MARTIAN DEVILS: Dust devils are dancing around Phoenix. On Sept. 9th, the Mars lander photographed no fewer than five red whirlwinds, including this one: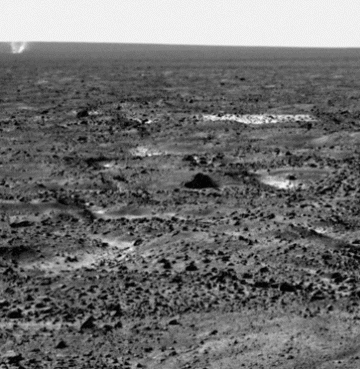 The whirlwind measured about 5 meters in diameter. It was 1 km from the lander at the start of the movie and 1.7 km away at the end, two and a half minutes later, putting its speed at greater than 18 km/h. Phoenix not only saw but also felt the devils; air pressure around the lander dipped sharply during the flurry, according to a NASA report.
So many dust devils in a single day may signal a change in the weather, perhaps related to the onset of winter at Phoenix's landing site. "It will be very interesting to watch over the next days and weeks to see if there are lots of dust devils or if this was an isolated event," says Phoenix mission scientist Mark Lemmon of Texas A&M University. Stay tuned.
KASATOCHI UPDATE: When a massive cloud of volcanic ash and sulfur dioxide hits the stratosphere, where does it go next? Click here for the answer. The movie you just saw, prepared by atmospheric scientists at the University of Bremen in Germany, shows how a plume of SO2 from the eruption of Alaska's Kasatochi volcano swirled, twirled and spread throughout Earth's northern stratosphere during the month of August 2008. Click on the image to watch it again:
People lucky enough to look up when the plumes passed by witnessed spectacular sunsets and sunrises. The display has subsided as the clouds have disipated--but the show is not over yet. Look carefully at the last frame of the movie. Subtle tendrils of ash and sulfate aerosols are still cross-crossing the stratosphere putting on a nice show for attentive sky watchers.
Kasatochi continues. Keep an eye on the sunset!
recent photos: from Vincent Phillips near Liverpool, England; from Linda Neilsen of Seattle, Washington; from Matt Champlin of Skaneateles, New York; from Tomas Trzicky of Prague, Czech Republic; from Marek Nikodem of Szubin, Poland; from Doug Zubenel of Cedar Creek, Kansas.
---
Sept. 2008 Aurora Gallery
[Aurora Alerts] [Night Sky Cameras]