Where's Saturn? Is that a UFO--or the ISS? What's the name of that star? Get the answers from mySKY--a fun new astronomy helper from Meade.

PROMINENCE ALERT: "This morning when I set up my telescope to look at the Sun, I was blown away by what I saw--a Blooming Mushroom!" reports Ng Wee Nghee of Singapore. "It was one of the widest prominences I've seen since I got my SolarMax40 filter."

More images: from Emiel Veldhuis of Zwolle, the Netherlands; from Britta Suhre of Dortmund, Germany; from P-M Hedén of Vallentuna, Sweden; from Monty Leventhal of Sydney, Australia; from Pavol Rapavy of Rimavska Sobota, Slovakia; from Erika Rix of Zanesville, Ohio; from Steve Wainwright of West Wales UK.

MARS ROCKET TRAIL: Phoenix has left Earth. The robotic Mars lander began its 9 month journey to the Red Planet yesterday at 5:29 am EDT when a Delta II rocket blasted off from Cape Canaveral. Signals received by the Deep Space Network indicate the craft is on course and in good condition: status reports.

The pre-dawn launch wowed onlookers, but it wasn't only the rocket that impressed. The Delta II's exhaust put on a show of its own: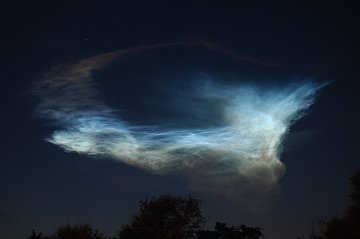 James Bjornbak snapped this photo from the Kennedy Space Center. "I used my Nikon D70 to make a 10-second exposure," he says.
The glowing loop is, essentially, a man-made noctilucent cloud (NLC). Tiny crystals of ice and other particles in the rocket's exhaust caught the rays of the early morning sun and lit up dramatically against the deep-twilight sky.
more images: from Jeffrey Berkes of Fort Lauderdale, Florida; from Sid Leach of Cocoa Beach, Florida; from William Wilson of Titusville, Florida; from Jerry W. Kinnamon of Zephyrhills, Florida; from Dimitar Boyadjiev and Kazumasa Imai at Cape Canaveral, Florida; from Georgina Love of Fort Pierce, Florida.
A similar display was seen in June when space shuttle Atlantis lifted off before sunrise to visit the International Space Station. While the formation of these man-made clouds is understood, the origin of natural NLCs, which can gather over high latitudes without any rocket to prompt them, remains a mystery. NASA's AIM spacecraft is in orbit now to investigate.
BEWARE THE MARS HOAX: It's August, which means it's time for the annual Mars Hoax. An email is going around claiming that Mars will approach Earth on August 27th; the encounter will be so close, the email states, that Mars will rival the full Moon in size and brightness. Imagine the tides!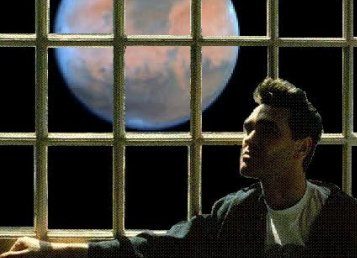 The Mars Hoax email first appeared in 2003. On August 27th of that year, Mars really did come historically close to Earth. But the email's claim that Mars would rival the Moon was grossly exaggerated. Every August since 2003, the email has staged a revival. It's as wrong now as it was then.
REALITY CHECK: Would you like to see the real Mars? Wake up before dawn and look east. Mars is having a close encounter with the Pleiades star cluster. Sky maps: Aug. 5, 6, 7. The planet looks like a pinprick-bright red star, nothing like a full Moon, very pretty next to the Pleiades. Pete Lawrence of Selsey UK photographed the scene on August 3rd.
---
UPDATED: AUG. 4, 2007
.2007 Noctilucent Cloud Gallery
[Night-Sky Cameras] ["Noctilucent Cloud"--the song]