PROM ALERT: "The sun still lives!" reports Les Cowley of England. "A large X-shaped prominence dominated the sun's NW limb this morning." Readers, if you have a solar telescope, take a look.
more images: from P. Fitzpatrick, J. Fairfull and J. Stetson of South Portland, Maine
SPACE STATION RADIATORS: Last night, the International Space Station flew directly over the Netherlands where Ralf Vandebergh was ready with his 10-inch telescope. "I've waited years for this one--a perfect 90o pass!" says Vandebergh. "The station was at its closest distance as it passed directly overhead." Guiding the optics by hand, he centered the spaceship in his viewfinder and snapped this picture: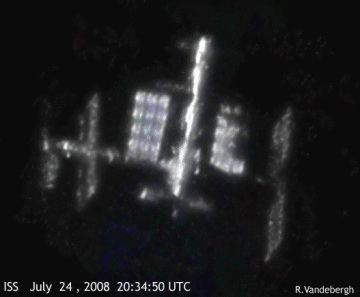 The close-up photo shows the space station's gleaming backbone, its solar wings, science labs and docked cargo ships--but best of all, says Vandebergh, "it gave a very nice view of the station's fully-deployed thermal radiators (denoted by boxes)."
When the marvels of the ISS are discussed, radiators are seldom mentioned, yet they are one of the space station's truly critical systems. Indeed, the crew couldn't live without them. Because the space station is superbly insulated against the cold of space, heat generated by people and electronics inside the station has a hard time getting out. Left unchecked, the buildup of heat would literally cook the contents of the ISS. Radiators provide relief. The cooling system works much like a car radiator except that it uses 99.9% pure ammonia instead of water, which would freeze in pipes outside the space station.
The silvery radiators are also good reflectors, adding significantly to the brightness of the space station and making it a lovely sight in the night sky. See for yourself.
ENDS OF THE RAINBOW: Yes, there is gold at the end of the rainbow. It's a utility truck: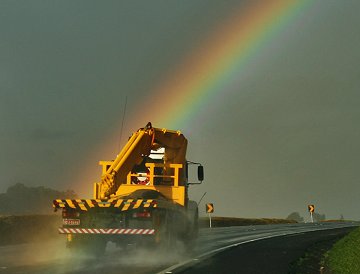 Mendoca Jr, took the picture yesterday in Brazil. "We had a fine rain storm, a nice double rainbow, and this golden truck at the end of one of the 'bows," he says. A glance at the complete picture reveals the second rainbow and its treasure: a golden arrow.
All rainbows come in pairs. The bright primary bow is caused by sunlight reflected once inside raindrops. The dimmer (and sometimes invisible) secondary bow is caused by sunlight reflected twice. When you see one 'bow, always look for the other. You might just double your treasure.
more images: from Lynne Golbourn of Garden, East London, UK; from Alan Friedman of Lake Sunapee, New Hampshire; from Mike Harden of southwest Florida; from David Hough of Wallsend, NSW Australia; from Imre Zsolt Balint of Calgary, Alberta, Canada; from Bill Dickinson of Glen Allen, Virginia; from Joshua Kitchener of Cape Coral, Florida
---
2008 Noctilucent Cloud Gallery
[Strange Clouds] [Sky Cameras]