Father's Day is tomorrow. Skip the tie and give him the stars: SpaceWeather PHONE.

NLC ALERT: Last night, a brilliant display of noctilucent clouds (NLCs) swept across Europe descending as far south as France. This marks the second time in a week that intense NLCs have appeared, and sky watchers should be alert for more in the nights ahead. Favored viewing sites include Europe, Canada and northern-tier US states--the same places where auroras are often seen. Go outside after sunset and look west. If you see electric-blue tendrils spreading upward from the horizon, you've spotted a noctilucent cloud: gallery.

IRANIAN MYSTERY CLOUD: On June 15th, sky watchers around Iran witnessed a strange and luminous cloud in the night sky. "I have never experienced a similar phenomena," reports veteran astronomer Babak A. Tafreshi of Tehran. Observing alongside two other astronomers, Oshin Zakarian and Pouria Nazemi, he took this picture: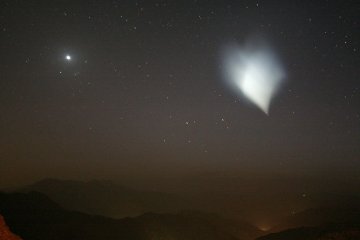 Photo details: Canon 350D, 28mm, ISO 800, f4, 35s.
"The object started out patchy, shapeless and dim; it quickly brightened and formed a blue-tinted cone with a nose of magnitude -2 or -3," he says. The cloud raced across the sky "moving about 20 degrees per minute." More images: #1, #2, #3, #4, #5, #6.
"It was shining blue and moving fast," agrees Amir Hossein Abolfath, another witness from Tehran, who snapped this picture. "Twenty minutes after I saw it, my friend Asghar Kabiri saw the same cloud 900 km away from Tehran in Sa'adat shahr."
Mystery solved? The following explanation is probably correct, but uncertain because of the classified nature of yesterday's rocket launch:
On June 15th at 11:12 am EDT, an Atlas V rocket launched from Cape Canaveral; its payload was a pair of National Reconnaissance Office ocean surveillance satellites. After the satellites were deployed--into the wrong orbit, according to media reports--the rocket's malfunctioning Centaur upper stage vented excess fuel, producing the Iranian cloud. The dumping of excess fuel is standard practice for Centaur-boosted launches, and this event is probably unrelated to the Centaur's reported malfunction.
ASTEROID VESTA: Asteroids are much smaller than planets, which makes them exceedingly difficult to photograph. Nevertheless, using only an 11-inch Celestron telescope, Christopher Go of the Philippines managed to capture asteroid Vesta tumbling through space on June 2nd, 4th and 5th: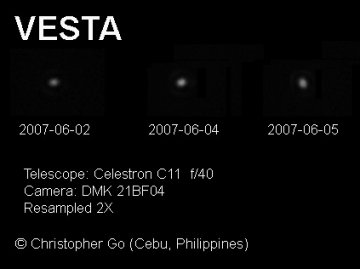 "It's been frustrating, trying to image such a small object," says Go. "As seen from Earth, Vesta is only 0.6 arcseconds wide. Perfect seeing was required."
When NASA's Dawn spacecraft reaches Vesta in 2011, it will send back the first detailed images of this fascinating asteroid's surface. Photos taken by the Hubble Space Telescope hint that Vesta may be covered with ancient lava flows and magma seas much like our own Moon. These features are thought to be due, in part, to a nearby supernova billions of years ago: full story.
Want to see Vesta yourself? It is a speck, barely visible to the naked eye in the constellation Scorpius. Look south at midnight: sky map.
---
2007 Noctilucent Photo Gallery
[Listen!] [Night-sky Cameras]