Would you like to hear about solar flares--while they're flaring? Get instant alerts from SpaceWeather PHONE.

CLOSE ENCOUNTER: Today, June 7th, the planet Jupiter is at its closest to Earth for all of 2007. This makes it remarkably big (46") and bright (mag. -2.5). A backyard telescope should easily reveal Jupiter's cloud belts, its four largest moons, and an unmistakable bulge around Jupiter's middle caused by the planet's rapid 10-hr spin. Look due south at midnight: sky map.

NLC ATTACK: Last night, a wide expanse of electric-blue noctilucent clouds (NLCs) appeared over Europe. "It was a beautiful display," says Martin McKenna of Maghera, N.Ireland. "Wonderful twisting bands and waves were begging for attention." Paul Evans of Larne, N. Ireland, snapped this picture: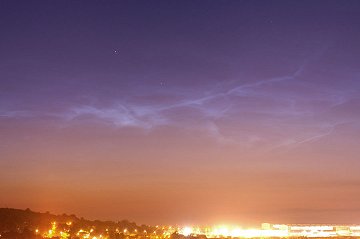 Photo details: Minolta Dynax 5D, 50mm lens, 5 secs, f2.8, ISO 200
Noctilucent clouds are a mystery. They were first reported in the 19th century after the eruption of super-volcano Krakatoa. In those days the clouds were confined mainly to high latitudes, but they have intensified and spread with sightings in recent years as far south as Colorado and Utah. What causes NLCs? A NASA spacecraft named AIM is in orbit right now on a mission to find out.
One thing is known: Summer is the season for NLCs. Sky watchers in Europe have seen hints of NLC activity in recent weeks, but "this is the finest display so far," says Evans. The cloud was approximately 25o high x 100o wide." Consider it official: NLC season has begun.
Observing tips and photo gallery
[night-sky cameras] [NLCs--the song!]
THE SUN IN MOTION: Yesterday, Gary Palmer was photographing sunspot 960 when "plasma began to flow outward around the spot--and then it exploded!" He captured the dramatic C9-class solar flare in action: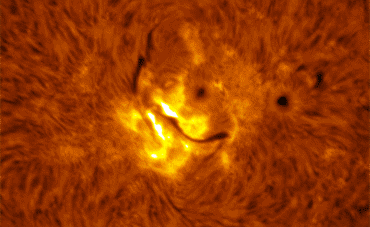 Click to view the full-sized movie: 7 MB
Although sunspot 960 is decaying, it poses a continued threat for strong flares. NOAA forecasters estimate a 10% chance of an X-flare--10+ times as powerful as the one pictured above--during the next 24 hours. Astronomers with solar telescopes should maintain their watch on this active region.
more images: from Pete Lawrence of Selsey, UK; from Peter Paice of Belfast, Northern Ireland; from B. Morrissette and J. Stetson of South Portland, Maine; from Günter Kleinschuster of Styria, Austria; from Patrick Bornet of Saint Martin sur Nohain, Nièvre, France; from Alcaria Rego of Almada, Portugal; from Guilherme Grassmann of São Paulo, Brasil.