He already has a neck tie. This year give Dad something truly heavenly for Father's Day: SpaceWeather PHONE.

OVER THE HORIZON: Look at this picture. Something is coming over the eastern limb of the sun, probably an active sunspot. Magnetic loops rising high above the 'spot herald its approach like the sails of a ship approaching from beyond the horizon. Astronomers with solar telescopes should keep an eye on the sun's eastern limb.

BLUE MOONS: According to folklore, last night's full Moon over North America was a Blue Moon, but it didn't look very blue when it rose over Chippewa Falls, Wisconsin: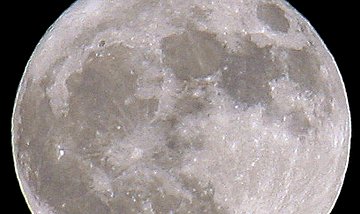 Photo details: Canon 30D, 300mm f4.5 lens, ISO 100, 1/45s
Tony Wilder's photo captured only the usual gray shades of moondust and ancient, hardened lava. This is how Blue Moons of folklore normally appear; folklore is not enough to make the moon change color.
But physics can do it. On May 21st, for instance, the Moon over Vecsés, Hungary, really did turn blue. "It was a unique and unforgettable sight," says photographer Ágnes Kiricsi who took these pictures: #1, #2, #3. The display was caused by a Sahara dust storm that filled the air above Hungary with dust particles about 1 micron (one millionth of a meter) in diameter. Clouds of micron-sized dust can act as a color filter, turning the Moon truly blue.
BONUS: Last night, Dr. Tony Phillips' dog sled team of sixteen Siberian Huskies serenaded the Blue Moon. Click here to listen.
COCCINELLA SEPTEMPUNCTATA: Yesterday, when Martin Wagner of Sonnenbuehl-Genkingen, Germany, looked at the viewscreen of his Canon EOS 300D and saw this sunspot, "I thought a mega-flare was about to erupt!" (continued below)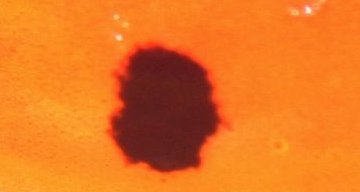 Photo details: Canon EOS 300D, 35-70mm Minolta lens, 400ASA, 1/200s
But wait, the sun was blank yesterday. Where did this spot come from? Wagner zoomed out and discovered the answer: Click here.
Clearly, there was no danger of a mega-flare. It is remarkable how the markings on a ladybug's back resemble sunspots, and the dappled texture of the shell looks like solar granulation. The species in Wagner's photo is Coccinella septempunctata, the 7-spotted ladybug, so now we know the sunspot number, too!