He already has a neck tie. This year give Dad something truly heavenly for Father's Day: SpaceWeather PHONE.

BLUE MOON & JUPITER: Tonight's Blue Moon has a companion: Jupiter. All night long, the giant planet will be located right beside the Moon. You can see them with the naked eye or, for a real treat, scan the pair with a backyard telescope. Behold the moons of Jupiter, lunar mountains and craters, and maybe even the Great Red Spot: sky map.

BONUS: Blue Moons are supposed to be absurd, but on May 21st, the Moon over Vecsés, Hungary, really did turn blue. "It was a unique and unforgettable sight," says photographer Ágnes Kiricsi who took these pictures: #1, #2, #3. The display was caused by a Sahara dust storm that filled the air above Hungary with micron-sized dust particles. Clouds of fine dust can act as a color filter, turning the Moon (or Sun) blue: more.

SUDDEN IONOSPHERIC DISTURBANCE: Yesterday at 1415 UT, a C2-class solar flare erupted from sunspot 958. C-class flares are generally considered weak, but solar flares are so powerful, even a "weak" one can directly affect our planet. Here's proof: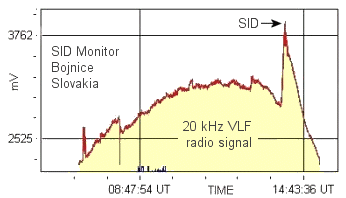 When the flare erupted, amateur radio astronomer Rudolf Slosiar of Bojnice, Slovakia, was monitoring a distant 20 kHz terrestrial radio transmitter. The flare caused the signal to surge; note the spike in the plot, above. How do flares do this? X-rays from solar flares knock electrons off molecules in Earth's upper atmosphere, boosting the density of electrons in the ionosphere. This, in turn, improves the propagation of very low frequency (VLF) radio waves around Earth. Such events are called "sudden ionospheric disturbances" or SIDs.
If you would like to observe SIDs yourself, visit the American Association of Variable Star Observer's website for instructions.
BACKWARD SHADOWS: "Is it the end of the world?" asks photographer Nick King of Harrow, UK. "I was in the garden at home when I saw this cloud silhouetted by the sun. It looked like a mushroom cloud to me!"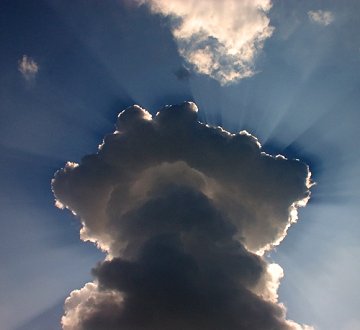 Photo details: Canon 300D, 18-35mm lens
In fact, it's just an ordinary cumulous cloud--a billowing tower of moist air rising to the heavens where the water will eventually fall back to the ground as rain.
The cloud may be ordinary, but the shadows it cast are quite interesting, says atmospheric optics expert Les Cowley. Note the dark shadows at the top of the cloud; while the sun is shining down, those shadows seem to be going up. He explains: "The cloud top is actually casting shadows downwards onto two thin haze layers below it. Perspective effects make the shadows appear larger and the sunbeams appear to radiate outwards."
Backward shadows? The end of the world? You see, it's all an illusion....