| | | |
| --- | --- | --- |
| Turn your cell phone into a field-tested satellite tracker. Works for Android and iPhone. | | |
EVIDENCE OF IMPACT: For billions of years, the Earth and Moon have been pummeled by meteoroids. On the Moon, evidence of the onslaught is visible to the naked eye in the form of innumerable craters. On Earth, however, most craters have been weathered away. Looking around, you might never guess we live in a cosmic shooting gallery. Nevertheless, the evidence exists: "Impactites," for instance, are shock-melted pieces of our own planet found scattered around impact sites, while "tektites" are glassy fragments of the impactors themselves. Meteorite hunter Dr. Mike Reynolds has scoured the planet for authentic fragments of major impacts and he's offering them to the general public. Click here for details.
GEOMAGNETIC STORM: A G1-class geomagnetic storm is in progress, sparked by a high-speed solar wind stream which is buffeting Earth's magnetic field. High latitude sky watchers should be alert for auroras.
Shawn Malone sends this picture, taken before sunrise on April 12th, from Marquette, Michigan: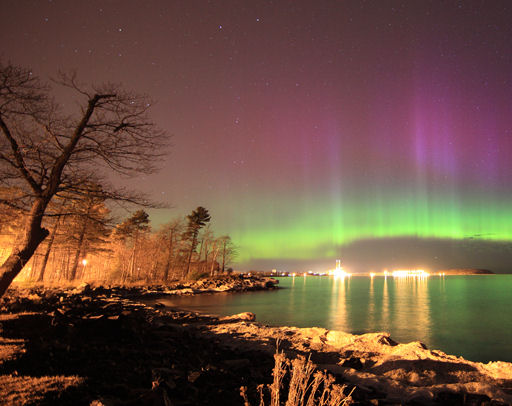 "I coaxed myself out of bed around 4am and was rewarded by a lightshow!" says Malone. "The auroras had no problem shining through the light pollution. I think the sun IS waking up. I watched the Northern Lights until the sunlight wiped them out."
more images: from Warren Gammel of Fairbanks, Alaska; from Doug Kiesling of Saint Cloud, MN
NOAA forecasters estimate a 25% chance of more geomagnetic activity during the next 24 hours. Aurora alerts: voice, text.
April 2011 Aurora Gallery
[previous Aprils: 2010, 2009, 2008, 2007, 2006, 2005, 2004, 2003, 2002]
SOLAR NEPHELOCOCCYGIA: It's a noun. Nephelococcygia: The act of seeking and finding shapes in clouds. On April 10th in Selsey, UK, Pete Lawrence set up his solar telescope and performed nephelococcygia on the sun. "I think I found a fish," he says.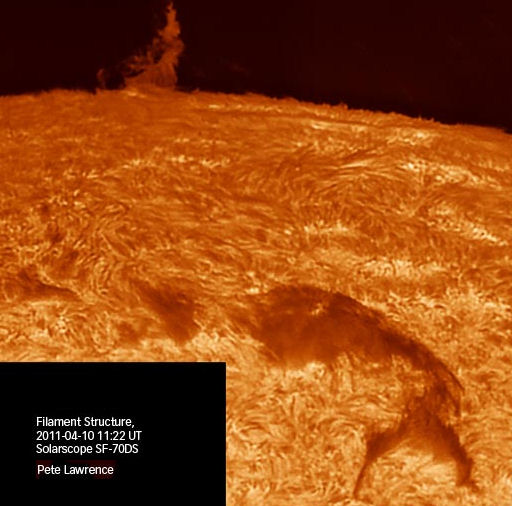 The fish-shaped form at the base of the image is a cloud of plasma held above the stellar surface by magnetic fields. It looks dark because it is cooler than the inferno below. Readers with solar telescopes are encouraged to monitor this fishy form--and learn to pronounce nephelococcygia.
UPDATE: The fish is gone. As sometimes happens to sea creatures on the sun, it erupted. Amateur astronomer Michael Buxton of Ocean Beach, California, filmed the event. The movie is not as gruesome as it sounds.
more images: from Karzaman Ahmad of Langkawi National Observatory, Malaysia; from Steve Riegel of Albuquerque, NM; from N. Pommeville and J. Stetson of South Portland, Maine
---
April 2011 Aurora Gallery
[previous Aprils: 2010, 2009, 2008, 2007, 2006, 2005, 2004, 2003, 2002]