RADIO STORM ON JUPITER: Jupiter has radio storms and yesterday Thomas Ashcraft of New Mexico heard one. The loudspeaker of his 21 MHz amateur radio telescope popped and crackled loudly as natural radio lasers in Jupiter's magnetosphere swept their beams past Earth in rapid-fire succession. Electrical currents flowing between Jupiter's upper atmosphere and the volcanic moon Io can boost these emissions to power levels easily detected by ham radio antennas on Earth. Click here and here to listen.
HAPPY EASTER: "Last night, I went outside and found a giant red Easter Egg," says Albert Engert of Uengershausen, Germany. "Upon closer inspection, however, I realized that it was just the Moon." He recorded his Easter moment using a Canon EOS 450D: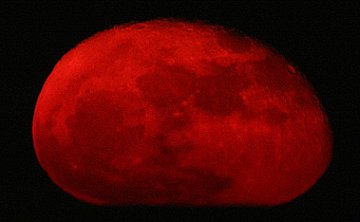 This Easter Egg doppleganger is indeed the Moon. Hanging near the horizon, it has been squashed by atmospheric refraction and reddened by the scattering effects of molecules in the air. Sometimes the Moon adopts other Easter colors: orange, green, pink, yellow, cobalt, and even red, white and blue.
"Happy Easter!" says Engert.
SUNDOGS AND DONKEY SHADOWS: The next time you're out walking on a sunny day and you meet a donkey, duck into its shadow. It's a great place to find rings around the sun: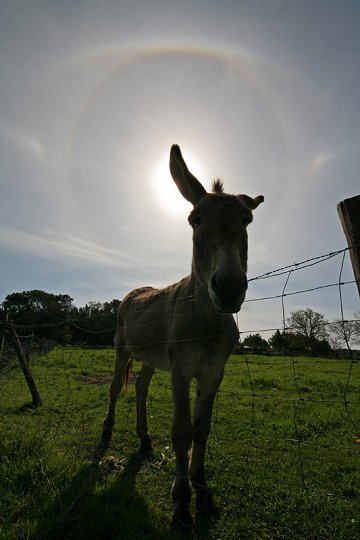 On April 12th, Erwan Henry of Carnac, France, followed those instructions and counted no fewer than five different ice haloes: "I saw a parhelic circle with sundogs, a 22o sun halo, an upper tangent arc and an infralateral arc. I was so happy to see an entire parhelic circle for the first time!"
Halos like these are often overhead--and just as often overlooked because there's no one around to block the glare. Can't find a donkey? Fingers, trees, flags and weather globes work, too. Take a look!
---
---
April 2009 Aurora Gallery
[previous Aprils: 2008, 2007, 2006, 2005, 2004, 2003, 2002]