IRANIAN SATELLITE: Iran's first home-grown satellite is now in Earth orbit. Named Omid (Farsi for "hope"), the diminutive comsat was launched on Feb. 2nd atop a Safir-2 rocket. Sky watchers in Europe have sighted both the satellite and the launch vehicle streaking separately across the night sky. The objects are dim (4th to 7th magnitude) but potentially visible to the unaided eye from dark-sky sites. Check the Simple Satellite Tracker for flyby times.
UPDATE: Enough orbits have passed to make an initial estimate of Omid's decay rate. The satellite and its rocket should reenter Earth's atmosphere in June-July 2009.
ISS FLYBYS: Here's something you can definitely see: the International Space Station. The behemoth spaceship spans 93 meters, masses 227,000 kg and shines about as brightly as the planet Venus. For comparison, astronomy professor Jimmy Westlake photographed the space station streaking past Venus last night over Stagecoach, Colorado: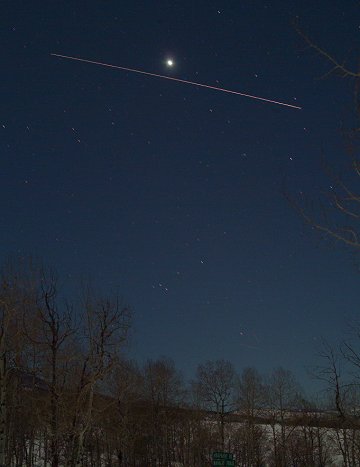 "It was very cool," says Westlake. "The streak shows how far the ISS moved during the 35 second exposure. I used a Fuji Finepix S2
digital camera and a 35 mm Nikkor lens."
North Americans should be alert for more scenes like this in the evenings ahead. The ISS is making a series of Venus-skimming twilight passes over the United States and Canada this week: flyby times.
more images: from Chris Peterson of Guffey, Colorado; from Val Germann of Columbia, Missouri; from Babak Tafreshi of Giessen, Germany.
DISCONNECTED TAIL: This morning, February 4th, a team of Italian astronomers was photographing Comet Lulin through a remotely-controlled telescope in New Mexico when "we were lucky enough to observe an intriguing phenomenon in the comet's tail," reports team leader Ernesto Guido. "Our images clearly show a disconnection event in progress. While we were looking, part of the comet's plasma tail was bring torn away."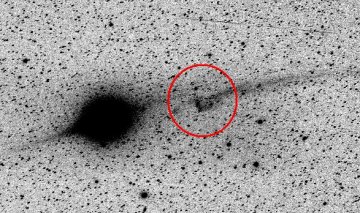 Photo credit: Ernesto Guido, Giovanni Sostero & Paul Camilleri [more]
Guido and colleagues believe the event was caused by a magnetic disturbance in the solar wind hitting the comet. It's a plausible hypothesis. Mini-magnetic storms in comet tails have been observed before--most famously in 2007 when NASA's STEREO spacecraft watched a CME crash into Comet Encke. Encke lost its tail in dramatic fashion, much as Comet Lulin did this morning.
Comet Lulin is approaching Earth for a Feb. 24th close encounter. This means the comet's tail--and its storms--are getting easier to see every night. Astronomers, ready your telescopes!
Comet Lulin Photo Gallery
[3D orbit] [sky map] [ephemeris]
---