Where's Saturn? Is that a UFO--or the ISS? What's the name of that star? Get the answers from mySKY--a fun new astronomy helper from Meade.

HIGH ATMOSPHERE: Space weather enthusiasts will enjoy a new web site composed by atmospheric optics expert Les Cowley: "High Atmosphere" explains the physics and fascination of airglow, rocket trails, gravity waves and much more. Enjoy!

TRICK OR TREAT: Astronomers around the world agree. Exploding Comet 17P/Holmes is one of the strangest things they've ever seen. Little did they know...

Last night, astrophotographer Alan Friedman of Buffalo, NY, took a close-up picture of the comet's core. "A strong deconvolution filter followed by multiple passes of unsharp mask and gaussian blur reveals startling new structure in comet 17P/Holmes." Here it is: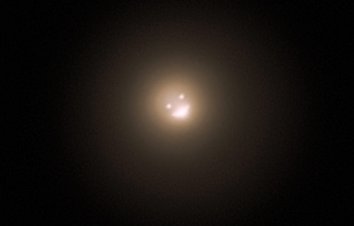 Trick or treat!
Would you like to see the comet behind the mask? Look north after sunset for an expanding fuzzball in the constellation Perseus: sky map. Comet Holmes is about as bright as the stars of the Big Dipper, easy to see with the unaided eye and a spellbinding target for backyard telescopes.
Comet 17P/Holmes Photo Gallery
[New: Interactive World Map of Comet Photos]
[sky map] [ephemeris] [3D orbit] [Night Sky Cameras]
SPOOKY ASTRONOMY: Halloween is date of astronomical interest. It has to do with seasons: Halloween is a cross-quarter date, approximately midway between an equinox and a solstice. There are four cross-quarter dates throughout the year, and each is a minor holiday: Groundhog Day (Feb. 2nd), May Day (May 1st), Lammas Day (Aug. 1st), and Halloween (Oct. 31st).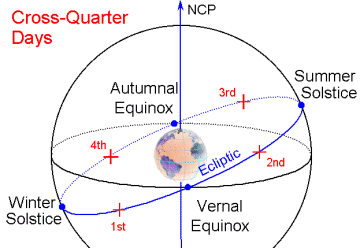 "Long ago, the Celts of the British Isles used cross-quarter days to mark the beginnings of seasons. Winter began with Halloween, or as they called it, Samhain," says John Mosley of the Griffith Observatory. "Halloween marked the transition between summer and winter, light and dark -- and life and death. On that one night, according to folklore, those who had died during the previous year returned for a final visit to their former homes. People set out food and lit fires to aid them on their journey -- but remained on guard for mischief the spirits might do."
And so something astronomical became something spooky. It's not the first time. Happy Halloween!