| | | |
| --- | --- | --- |
| AURORA ALERTS: Did you miss the Northern Lights? Next time get a wake-up call from Space Weather PHONE | | |
AMAZING IMAGE OF JUPITER: Last night, the atmosphere over Australia settled into a state of rare, crystal-clear transparency -- and it did so directly above the observatory of world-famous astrophotographer Anthony Wesley. The result was a picture of Jupiter that some onlookers are calling the finest-ever by an amateur astronomer. "On a scale of 1 to 10, the seeing was a 12," says Wesley. "Now I know what it must be like to see the giant planet from space."
BIG ERUPTION: On August 24th and 25th, an enormous magnetic filament slowly rose off the surface of the sun and erupted. Stationed over the sun's western hemisphere, NASA's STEREO-A spacecraft was in perfect position to record the action. Click on the arrow to play a 30-hour time lapse movie: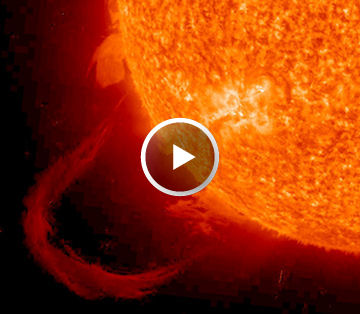 movie formats: 13 MB Quicktime; 4 MB iPad, 1.7 MB iPhone
The horseshoe-shaped filament expanded and -popped- about 600,000 km above the stellar surface. Rather than flying off toward Earth, however, most of the hot glowing plasma the filament contained simply fell back to the sun. There will be no Earth-effects from the blast.
AURORA AUSTRALIS: Earth is exiting a solar wind stream that has been causing bright auroras around the poles--both poles. Michael Zupanc sends this picture from Australia's Davis Station on the coast of Antarctica: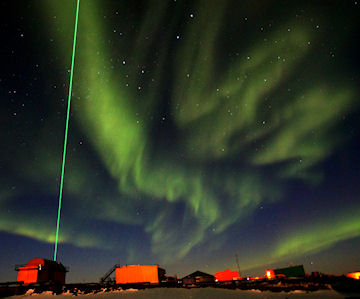 "The tail end of the solar wind stream produced a nice outburst on Aug. 27th," says Zupanc. "Despite having to contend with a nearly full Moon, the auroras were easy to see."
The green laser lancing into the sky is the station's lidar, the optical equivalent of a radar. "We use it to study stratospheric clouds," says Zupanc. The polar atmosphere is a sensitive 'barometer' of climate change and ozone recovery, and the Davis Station lidar is a key tool for researchers. It is able to measure the density, temperature, wind velocity and aerosol loading of critical atmospheric layers above the frozen continent. Plus it looks great during a geomagnetic storm!
Browse the gallery for latest images from the recent display:
August 2010 Northern Lights Gallery
[previous Augusts: 2009, 2008, 2007, 2006, 2005, 2004, 2003]