| | | |
| --- | --- | --- |
| Metallic photos of the sun by renowned photographer Greg Piepol bring together the best of art and science. Buy one or a whole set. They make a stellar gift. | | |
QUIET WEEKEND: With the return of formerly-explosive sunspot AR1429 proving anticlimactic, solar activity is low. No strong flares are likely this weekend.
SPRITE SEASON BEGINS: The first sprites of summer are starting to appear in the skies of North America. The strange thing is, summer is almost three months away. "Sprite season is beginning early this year," says Thomas Ashcraft, who photographed these specimens last night from his observatory in New Mexico: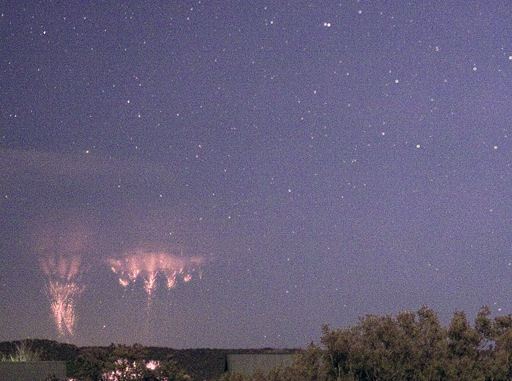 "At precisely two minutes and twenty-six seconds after midnight March 30, 2012 there was an incredibly powerful bolt of lightning in the vicinity of Woodward, Oklahoma that spawned these red sprites," says Ashcraft. "I could see them from two states away!" He also recorded VLF and shortwave radio emissions from the cluster, which you can hear as the soundtrack to this video.
Sprites are electrical discharges that come out of the top of thunderclouds, opposite ordinary lightning bolts which plunge toward Earth. Sprites can tower as high as 90 km above ground. That makes them a form of space weather as they overlap the zone of auroras, meteors, and noctilucent clouds.
Because they are associated with lightning, sprites are most often seen in summer months, "but in the past few days sprites have been reported in Texas (particularly near the Mexican border) as well as here in New Mexico," notes Ashcraft.
So if there's lightning where you live, be alert for sprites.
NORTHERN LIGHTS: Spring is aurora season, and the Arctic Circle is alight with green. On March 30th, first-time aurora photographer Alex Keen had no trouble finding a scene to shoot in Inari, Finland.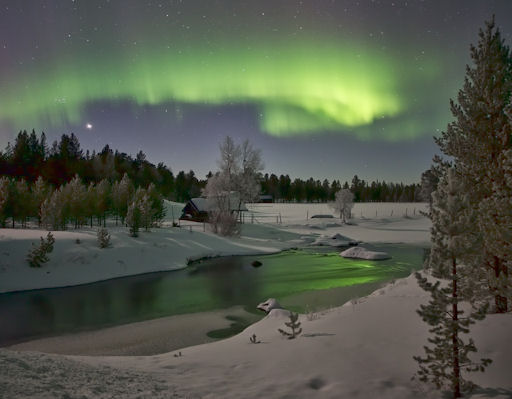 "This was the very first time that I have ever witnessed the Aurora Borealis and to say that I was captured by its magnificence and beauty would be the understatement of the Century," says Alex. "My Dad, Andy Keen, has been 'hunting' and photographing the 'lights' for many years and, up to now, I have only experienced them through his images and the countless stories that he has relayed to me regarding his adventures here in Northern Lapland. To have actually seen and 'felt' them first- hand was completely different and I can now fully understand and relate to his passion for what is quite rightly described by many as one of Mother Nature's most spectacular natural phenomena." Aurora alerts: text, phone.
more images: from Frank Olsen of Bø i Vesterålen, Norway; from Fredrik Broms of Kvaløya, Norway; from Ole C. Salomonsen of Grøtfjord, Tromsø; from Dirk Obudzinski of Circle, Alaska; from Thilo Bubek of near Tromsø / Norway; from Helge Mortensen of Kvaløya, Norway; from Bob Franklin of Door County Wisconsin; from Jónína Óskarsdóttir of Faskrudsfjordur, Iceland; from LeRoy Zimmerman of Ester, AK
---
February 2012 Aurora Gallery
[previous Februaries: 2011, 2010, 2009, 2008, 2007, 2006, 2004, 2003, 2002]