| | | |
| --- | --- | --- |
| Turn your cell phone into a field-tested satellite tracker. Works for Android and iPhone. | | |
SUNDIVING COMET : This morning a quartet of amateur comet hunters (M. Kusiak, S. Liwo, B. Zhou and Z. Xu) independently noticed a comet in SOHO coronagraph images. The icy visitor from the icy solar system is diving toward the sun--probably a one-way trip. Kusiak expects the doomed comet to brighten to first magnitude between now and the early hours of Oct. 1st. [finder chart] [realtime images]
CHANCE OF FLARES: Sunspot 1302, quiet now for three days, still has a 'beta-gamma-delta' magnetic field that harbors energy for X-class flares. NOAA forecasters estimate a 30% chance of such eruptions today. X-flare alerts: text, voice.
SOLAR WIND BLASTS MERCURY: At a NASA teleconference yesterday, researchers working with data from the Messenger spacecraft offered new evidence that gusts of solar wind are penetrating Mercury's magnetic field and eroding material off the planet's surface. The spacecraft has actually flown through plumes of ionized sodium scoured from the surface and escaping from weak points in Mercury's magnetosphere. Click here and scroll down to "Presenter #4" for relevant data and images.
Another "scouring event" could be in the offing. The Solar and Heliospheric Observatory (SOHO) observed two farside CMEs on Sept 29th, and one of them is heading for the innermost planet: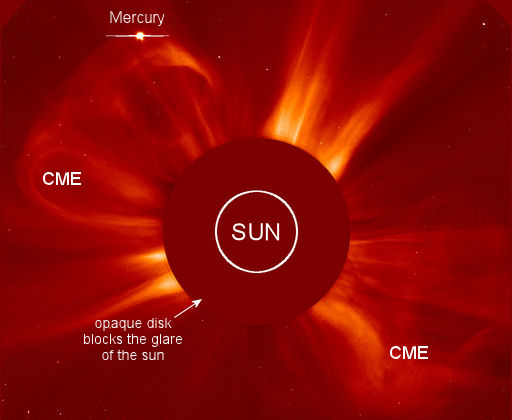 Using observations from SOHO and the twin STEREO spacecraft, analysts at the Goddard Space Weather Lab have modeled the trajectory of these CMEs. The one on the left should hit Mercury on October 1st at 02:13 UT +/- 7 hours. Forewarned, mission scientists for the Messenger probe can be attentive to the CME's arrival and observe its effects on Mercury.
According to the CME's forecast track, the cloud will hit Venus later the same day. The ability to forecast CME impacts on other planets is a new development in space weather forecasting made possible by NASA's deployment of spacecraft around the full circumference of the sun. Stay tuned for more interplanetary forecasts here on spaceweather.com.
GREENLAND, GREEN SKY: At the apex of Greenland's ice sheet, more than 10,600 feet above sea level, arctic photographer Ed Stockard had a good view of this week's severe geomagnetic storm. On Sept. 27th the sky above the National Science Foundation's Summit Station where Stockard works turned almost completely green: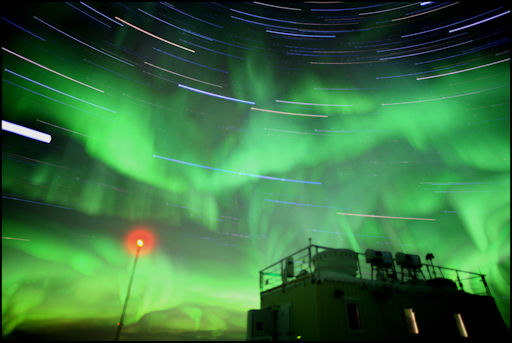 "The auroras were everywhere," he says. "We had clear skies and -37C temperatures. No matter which way you turned there was a great aurora. It was jaw dropping, talk to yourself amazement." (The "fat streak" among the star trails was Jupiter, he notes.)
On Sept. 29th, two nights after the storm peaked, auroras were still dancing around the Summit Station. Sky watchers in places like Greenland should remain alert for auroras as Earth's magnetic field remains unsettled. Aurora alerts: text, voice.
September 2011 Aurora Gallery
[previous Septembers: 2010, 2009, 2008, 2007, 2006, 2005, 2004]
TODAY'S BONUS SHOTS: Dragonfly Sunset from Tavi Greiner of Ocean Isle Beach, NC; Sunspot Sunset from Heiko Ulbricht of Freital, Saxony, Germany; Magnetic Filaments from Malcolm Park of London, England, UK; Downtown Sunspots from Erik Rynearson of Los Angeles, California; Sunspot Mirage from Mila Zinkova of San Francisco, California