Where's Saturn? Is that a UFO--or the ISS? What's the name of that star? Get the answers from mySKY--a fun new astronomy helper from Meade.

WEEKEND METEORS: Before daybreak on Saturday, Sept. 1st, a flurry of bright and oddly-colored Aurigid meteors will spill across the skies of western North America. Or maybe not. Forecasters are divided about what will happen this weekend when Earth runs into an ancient stream of debris from Comet Kiess. Get the full story from Science@NASA.

COLD ECLIPSE: Where on Earth does the sky turn green, the Moon turn red, and the cheeks turn blue--all at the same time? Hint: The ground is white.

"It's the geographic South Pole," answers Robert Schwarz who sends these pictures of Tuesday's lunar eclipse from the Amundsen-Scott South Pole Station in Antarctica: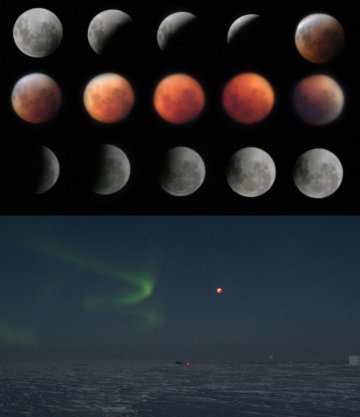 Photo details: Canon Digital Rebel XT, 1600 ASA, f8, exposure times varied.
"The 6-month night is coming to an end and it's getting quite bright here," he says. "The Moon was about 10o above the horizon during the eclipse, and some green auroras showed up as well."
"The temperature outside was about -63oC (-90oF), so for some of the pictures we set up the camera inside a heated observation room. The long exposure pictures are a bit blurry due to warm air rushing outside!"
Lunar Eclipse Photo Gallery
[Night-sky Cameras] [Interactive Eclipse Map]
DOLPHINBOW: Be alert for rainbows; you never know where one might pop up. On Aug. 25th, John Boyd of Santa Barbara, California, phtographed one blowing from the spout of a Pacific bottlenose dolphin: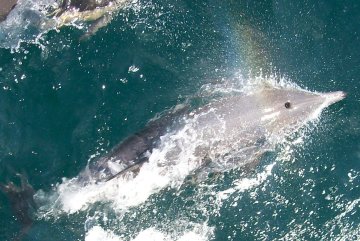 "I took my family whale watching in the Santa Barbara Channel, and we encountered many dolphins along the way," says Boyd. "One dolphin swimming along the bow of the boat blew out some water vapor and created a rainbow above his head."
On a sunny day, any source of water droplets can make a rainbow: a lawn sprinkler, a water fall, a crashing wave. Add to that list a frolicking dolphin.