Where's Saturn? Is that a UFO--or the ISS? What's the name of that star? Get the answers from mySKY--a fun new astronomy helper from Meade.

SUPER-BOLIDE: On Wednesday, July 25th at approximately 10:00 UT, "a major daylight fireball tore across the skies of Slovenia, Croatia and Italy," reports veteran meteor observer Jure Atanackov of Maribor, Slovenia. "It produced two bright flashes that reached an estimated magnitude of -20 and also loud sonic booms." Magnitude -20? In plain language, the meteor was 600 times brighter than a full Moon. Eyewitnesses, please report your sightings to Jure Atanackov or colleague Javor Kac who are gathering data to learn more about this extraordinary meteor and to estimate possible landing sites.

NIGHT-SHINING CLOUDS: Noctilucent clouds (NLCs) were active over Europe last night. "It was a fantastic display," reports P-M Hedén of Vallentuna, Sweden. "I was up all night watching these wonderful, glowing clouds as they changed in structure and brightness."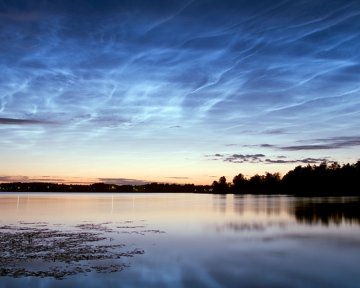 Photo details: Canon Digital Rebel XT, 20mm Sigma lens
Displays like this were once reserved for northern places like Sweden, Canada and Alaska. But in recent years, mysterious NLCs have descended to lower latitudes with sightings as far south as Colorado, Utah and possibly Virginia. No matter where you live, watch the western sky one to two hours after sunset. If you see electric-blue tendrils spreading up from the horizon, you've probably spotted a noctilucent cloud: gallery.
SOLAR SPICULES: Grass is growing on the sun. Not really, but the simile is fair enough; regard this July 26th photo of the sun's limb contributed by Harald Paleske of Langendorf, Germany: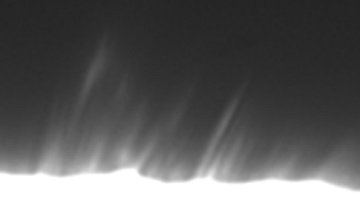 Photo details: 225/200 Unigraph, f/9.5, 1/650sec exposure
The blades are called spicules. They're jets of gas as tall as North America firing upward from the surface of the sun. Even when solar activity is "low," it is possible to find spicules in action. More than 100,000 are shooting up from the sun at any given moment. How does that compare to your lawn? There are roughly 100,000 blades of grass per square meter. Sit down cross-legged on a verdant patch of frontyard; you've just squashed almost a star's worth of spicules.
---
.2007 Noctilucent Cloud Gallery
[Night-Sky Cameras] ["Noctilucent Cloud"--the song]