NEW SUNSPOT: Observers are reporting a new sunspot forming near the sun's southeastern limb. It appears to be a member of Solar Cycle 24. images: #1, #2.
VOLCANIC SUNSETS: People across the USA (and now parts of Europe) are reporting unusual sunsets. When the sun goes down, delicate ripples of white appear over the western horizon. Then, as the twilight deepens, the sky turns a telltale shade of "volcanic lavender." Steven Hallgren photographed this example last night, June 29th, from of Coeur d'Alene, Idaho: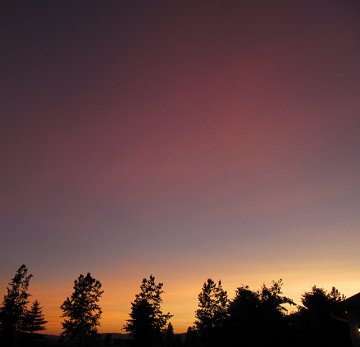 "With all the talk of volcanic sunsets, I had to take a look for myself," says Hallgren. "The purple was out in full force."
The source of the phenomenon is Russia's Sarychev Peak volcano. It erupted on June 12th, hurling massive plumes of sulfur dioxide (SO2) and other debris into the stratosphere. The white ripples that herald these sunsets are made of volcanic aerosols--a mixture of ash and sulfur compounds. Blue light scattered by fine volcanic aerosols combines with ordinary red sunset rays to produce the telltale lavender.
Earth-orbiting satellites are monitoring Sarychev's sulfur dioxide plume as it circumnavigates the globe at high latitudes, spreading the phenomenon from Russia to the USA to Europe and back again. All northern sky watchers should be alert for volcanic sunsets.
UPDATED: 2009 Sarychev Sunset Gallery
[See also: 2008 Kasatochi Sunset Photo Gallery]
TAPETUM LUCIDUM: Robert Smith of Stoneville, North Carolina, went outside last night to look for volcanic sunset colors. "I fired my flash at the landscape," he says, "and there were two bright eyes staring back at me!" It was a fox:
"Just look at those reflections," he says.
The eyes of foxes reflect light using an organic mirror called the tapetum lucidum. The tapetum is a layer of shiny tissue at the back of the retina. It increases the sensitivity of the eye. Photoreceptors get two chances to "see the light"--once on the way in and once again on the way back out. Creatures that hunt at night usually have a tapetum; creatures that sleep at night (e.g., humans) usually do not.
Astronomers really wish they had one! At least we can see the fox.
---
2009 Noctilucent Photo Gallery
[previous years: 2008, 2007, 2006, 2005, 2004, 2003]
---