| | | |
| --- | --- | --- |
| NEW AND IMPROVED: Turn your iPhone or iPod Touch into a field-tested global satellite tracker. The Satellite Flybys app now works in all countries. | | |
SUNSPOTS AHOY! Amateur astronomer Thomas Ashcraft of New Mexico reports a bipolar sunspot group forming in the sun's northeastern quadrant. He took these photos on April 30th around 1730 UT. Readers with solar telescopes are encouraged to monitor developments.
OVER THE SOUTH POLE: Night has fallen over the South Pole, and the hardy scientists who are "wintering over" there are enjoying a spectacular sky show. "For one thing, we are now seeing auroras," reports J. Dana Hrubes, leader of the South Pole Telescope Station. He snapped this picture on April 23rd using a Canon 7D: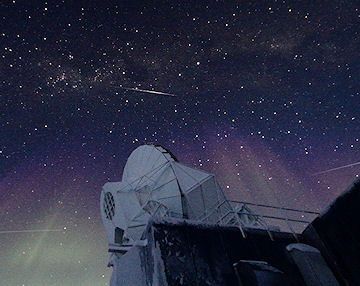 But that's not all. Look at the streaks of light. "Those are satellites," says Hrubes. "Polar orbiting satellites all cross at the poles, so our skies get very crowded." Indeed, he says, it can be hard to photograph auroras without catching a satellite in the exposure.
More than a hundred satellites pass over Earth's poles on a daily basis. Polar orbits are widely used for military reconnaisance, Earth science, and weather monitoring--but the most common type of polar satellite is the Iridium comsat. Sixty-six of them swarm around Earth, providing voice and data coverage to satellite phones and pagers over the planet's entire surface.
The South Pole turns out to be a great place to observe Iridium flares. "We see them all the time," says Hrubes. "Here's one just above the South Pole Telescope and here's another passing through the Southern Cross."
With almost five more months of darkness ahead, the show is just getting started. Stay tuned for more from the South Pole.
THE TREE OF AVATAR: NASA's Solar Dynamics Observatory (SDO) is doing more than just taking crisp pictures of the sun. It is revealing our star as a place of intense and sometimes even alien beauty. In today's image, we see "The Tree of Avatar."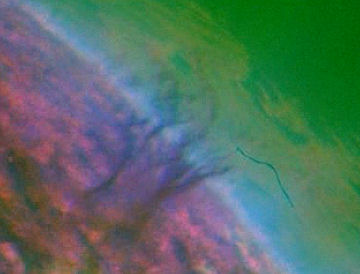 Click on the image to launch a 25 MB Quicktime movie
The trunk of the tree is a twisted, gnarly pillar of magnetism containing hundreds of millions of tons of relatively cool plasma. The canopy is a cloud of million-degree gas. As solar physicists watched this tree on April 19th, it exploded, producing one of the biggest eruptions in years: movie.
The colors in the movie trace different temperatures. Reds are relatively cool (60,000 K - 80,000 K); blues and greens are hot (1,000,000 K - 2,200,000 K). The tree's cool trunk rapidly heats up as it rises into the blast, and the canopy cools down as it falls in pieces back to the sun. Go ahead and watch the movie again. Once is not enough!
---
April Northern Lights Gallery
[previous Aprils: 2009, 2008, 2007, 2006, 2005, 2004, 2003, 2002]