| | | |
| --- | --- | --- |
| They came from outer space--and you can have one! Genuine meteorites are now on sale in the Space Weather Store. | | |
EMERGING SUNSPOT: A large farside sunspot that hurled multiple CMEs toward Venus a week ago is now rotating onto the Earthside of the sun. Its potential for additional eruptions will become more clear as it turns toward our planet in the days ahead. Solar flare alerts: text, voice.
AURORA WATCH: A solar wind stream is buffeting Earth's magnetic field, sparking bright auroras around the poles. During the early hours of March 30th, geomagnetic activity registered G1 on NOAA storm scales. There is a 20% to 25% chance of additional geomagnetic storms tonight as the solar wind continues to blow. Aurora alerts: text, voice.
"There is nothing like a geomagnetic storm to put an aurora photographer in a good mood, especially when his mother traveled half way across the world for one reason--to see the Northern Lights," says aurora tour guide Chad Blakley of Abisko National Park in Sweden. Here she is beneath a green curtain on March 29th: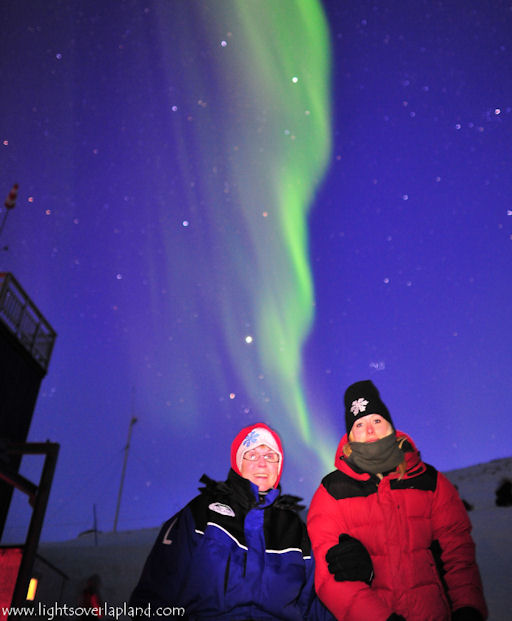 "Just as the Arctic sun sank low enough in the sky for us to see the stars and planets the auroras appeared," continued Blakley. "On several occasions the lights danced and twirled in the sky as everyone, including my mother, watched in awe. I am hopeful for a few more nice displays before the midnight sun ends the aurora season once and for all."
FADING COMET PAN-STARRS STILL PHOTOGENIC: "Comet Pan-STARRS continues to fade," reports University of Colorado atmospheric sciences Prof. Richard Keen. "My latest estimate from yesterday puts it at 3rd magnitude." This means the comet is 15 times fainter than it was when it emerged from within the orbit of Mercury on March 11th. Despite the fade, Pan-STARRS remains visible to the naked eye (barely) and very photogenic. Keen took this picture on March 25th: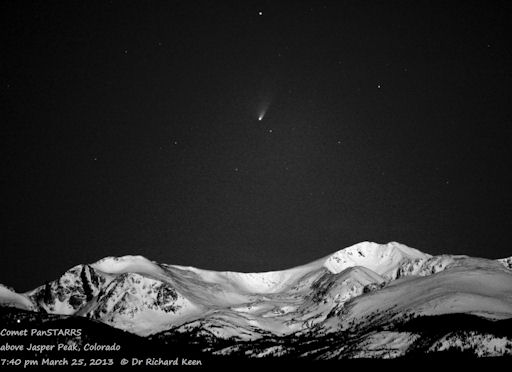 "This is my favorite of several recent images," says Keen. "It's an Ansel Adams knock-off, using some of the master's techniques to bring the comet out of the moonlight."
He explains: "I Anselized the pictures by running them through a yellow filter (digitally, on the computer), just as Ansel Adams famously did to darken the sky and enhance the snow covered mountains. Since the dusty comet is also yellow, it really popped out with the yellow filtering. Then, convert the image to Black & White and play with the contrast a bit, and--voila! The comet jumps out of the moonlight!"
"After tonight those tricks won't be necessary because the full Moon will be leaving the evening sky."
More: NASA video, 3D orbit, ephemeris, light curves.
---
Realtime Space Weather Photo Gallery
---
Realtime Noctilucent Cloud Photo Gallery
[previous years: 2003, 2004, 2005, 2006, 2007, 2008, 2009, 2011]