| | | |
| --- | --- | --- |
| Listen to radar echoes from satellites and meteors, live on listener-supported Space Weather Radio. | | |
VERY QUIET SUN: With no sunspots flaring, solar activity is very low. NOAA forecasters put the odds of a significant eruption today at only 10%. Solar flare alerts: text, voice.
SOLAR CYCLE UPDATE: 2013 is only days away, and according to most forecasters, Solar Max should be approaching as well. But is it? Barely-increasing sunspot counts and anemic solar activity suggest an interesting possibility: Perhaps Solar Max is already here. This plot of measured vs. predicted sunspot numbers illustrates the idea: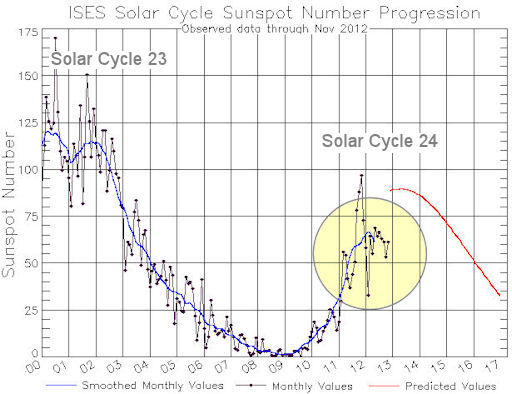 The blue curve traces monthly sunspot numbers measured since 2000. The red curve is the prediction of the NOAA-led Solar Cycle Prediction Panel. So far, Solar Cycle 24 is underperforming even compared to the panel's low expectations.
There is still a strong chance that Cycle 24 will rebound and peak in 2013 as expected. It might even be a double-peaked cycle like the cycle before it. As 2013 nears only one thing is certain: we don't know what will happen. Stay tuned. Solar flare alerts: text, voice.
NACREOUS CLOUDS: Arctic sky watchers should be alert for bright splashes of color this weekend: The nacreous clouds are back. Göran Strand of Östersund, Sweden, photographed this tiny specimen on Dec. 28th: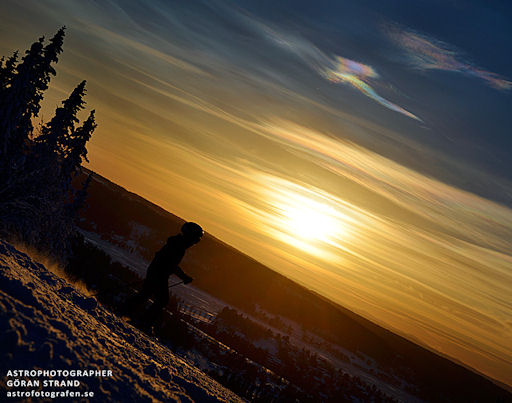 "He sky was dotted with very small but intense nacreous clouds," says Strand. "They lasted for a couple of hours and changed form very often." A close-up photo highlights the vivid colors that are the signature of these clouds.
Atmospheric optics expert Les Cowley comments: "Of all Earth's clouds, nacreous clouds are the most spectacular, and a very rare treat for skywatchers. For up to an hour after sunset or before dawn they glow like eerie electric discharges or gas jets in the darkening sky, their filmy shapes slowly curling and uncurling with intense shifting colors. They are composed of tiny ice crystals more than twice as high as ordinary clouds, 9-16 miles up, in the stratosphere and form at temperatures of minus 85 Celsius and below. The crystals are all of similar size and they diffract the high altitude sunlight to make the colours."
"Search for nacreous clouds at high latitudes (e.g., Scotland, Scandinavia, Iceland, Northern US) in winter and preferably downwind of mountains," Cowley advises. "They like stormy weather that perhaps creates gravity waves to loft the necessary moisture to make them upwards across the tropopause into the stratosphere. Once seen they are never forgotten!"
Realtime Nacreous Cloud Photo Gallery
VAN GOGH CLOUDS: On Christmas morning, Gene Hart of Jonesport, Maine, woke up early to enjoy the sunrise before opening presents. What he saw may have been the best gift of all. "There was a cloud formation showing a remarkable series of wave shapes," says Hart. "They were backlit by the rising sun over Moosabec Reach." He snapped this picture of the harbor using a 14-megapixel digital camera: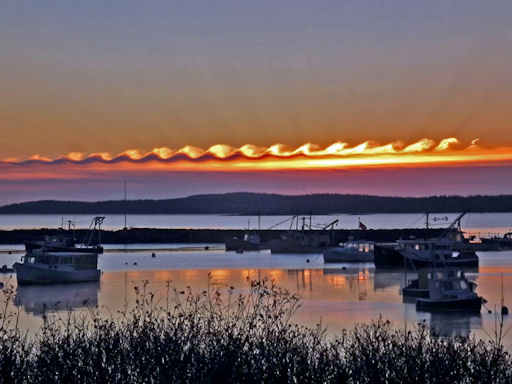 "I also took some 28x zoom images of the wave structure," says Hart. The close-ups are a must-see.
These clouds, sometimes called "billow clouds," are produced by the Kelvin-Helmholtz instability when horizontal layers of air brush by one another at different velocities. A better name might be van Gogh clouds: It is widely believed that these waves in the sky inspired the swirls in van Gogh's masterpiece The Starry Night.
Realtime Space Weather Photo Gallery
---
---
Realtime Noctilucent Cloud Photo Gallery
[previous years: 2003, 2004, 2005, 2006, 2007, 2008, 2009, 2011]