| | | |
| --- | --- | --- |
| SATELLITE FLYBYS APP: Turn your iPhone or iPod into a field-tested satellite tracker! Spaceweather.com presents the Satellite Flybys app. | | |
PARTIAL LUNAR ECLIPSE: On Dec. 31st, the Moon will dip into Earth's shadow for a partial lunar eclipse. The event is visible from Europe, Africa and Asia. At maximum eclipse, around 19:24 UT, approximately 10% of the Moon will be darkly shadowed. [animated preview] [visibility map]
MOON HALO ALERT: It's cold outside. The Moon is waxing full. There's ice in the air. Add them all together and you have perfect conditions for a ring around the Moon: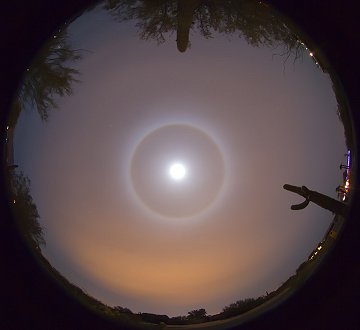 Photo details: Canon EOS 5D, 8mm fisheye lens, ISO 200, 10s
"I happened to take a stroll outside last night," says photographer David Harvey of Tucson, Arizona. "The Moon was nearly overhead and surrounded by this eye-catching 22o halo."
Such haloes are formed when moonlight passes through pencil-shaped ice crystals floating in high freezing clouds. When you see a 22o moon halo, be alert for moondogs and moon pillars, too. They are formed by plate-shaped ice crystals that often accompany their pencil-shaped cousins.
The Moon is full on Dec. 31st. Mark your calendar for haloes.
more images: from James Helmericks on the Colville River Delta in northern Alaska; from John C McConnell of Maghaberry Northern Ireland; from Jens Hackmann of Bad Mergentheim, Germany; from Gerhard Dangl of Nonndorf, Austria;
SOLAR ACTIVITY: This morning, Dec. 29th, a slow-moving coronal mass ejection (CME) lumbered over the western limb of the sun. A coronagraph onboard the Solar and Heliospheric Observatory (SOHO) recorded the eruption: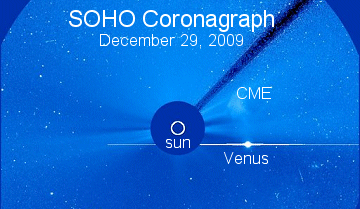 Click to launch a 0.9 MB movie
The billion-ton cloud could have come from any of several active regions now on the back side of the sun--namely, former sunspots 1035, 1036 and/or 1038. Earth is not in the cloud's path (and neither is Venus, despite how it looks in the SOHO movie) so the event will not produce any Northern Lights. For auroras, browse the gallery:
December Northern Lights Gallery
[previous Decembers: 2008, 2007, 2006, 2005, 2001, 2000]
---