| | | |
| --- | --- | --- |
| BEHOLD THE SUN: Would you like to see fiery prominences and new-cycle sunspots with your own eyes? On sale now: Personal Solar Telescopes. | | |
COLORADO FIREBALL: Multi-station observations of last night's Colorado fireball reveal its nature: it was a natural meteoroid and not the reentry of manmade space junk. "This image was taken by my all-sky camera in Guffey, Colorado, and shows the meteor passing directly overhead," reports astronomer Chris Peterson. "The meteor had a ground path about 170 miles long, and traveled from east to west at 34 km/s (76,000 mph)." As bright as a full Moon, the fireball cast shadows through windows more than 300 miles away, as described in this report from Thomas Ashcraft near Santa Fe, New Mexico.
AURORA WATCH: A solar wind stream hit Earth last night, sparking brief but intense Northern Lights over Alaska. Lance Parrish took this picture from Skiland, a small town 20 miles northeast of Fairbanks: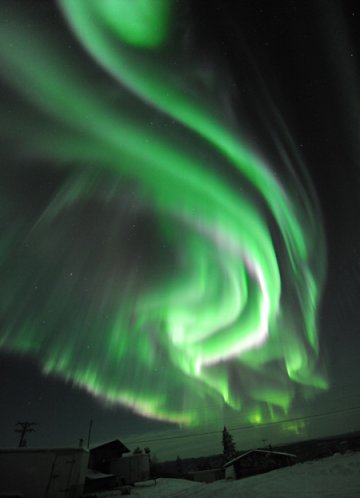 Photo details: Nikon D3, ISO 1600, 3 secs
"The auroras were very fast moving and trimmed with pink edges," he says. "Some of the lights went directly overhead."
Gusts of solar wind continue to buffet Earth's magnetic field and this could spark another round of geomagnetic storms tonight. High latitude sky watchers should remain alert for auroras.
Oct. 2008 Aurora Gallery
[Previous Octobers: 2007, 2006, 2004, 2003, 2002, 2001, 2000]
AT THE MERCY OF MARS: Last night on Mars, the temperature at Phoenix's arctic landing site dropped to -139 F (-95 C). The lander is equipped with heaters to withstand such cold, but there's a problem. Winter is coming, days are shortening, and solar panels aren't generating enough power. Yesterday NASA made it official: Phoenix's days are numbered.
To conserve power, mission controllers are now shutting down some of Phoenix's systems. First to go: a heater that kept the lander's digging arm warm and limber. Mission controllers turned it off yesterday, effectively disabling the arm and saving 250 watt-hours per day. With a pair of 3D glasses, you can peer into Phoenix's last trench: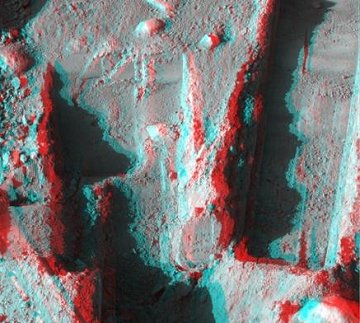 Over the next several weeks, three more survival heaters will be shut down, one at a time, in an effort to save energy and extend the mission as long as possible. Keeping Phoenix's stereo camera in action is a priority, and the camera's heater will be second to last turned off, say planners.
The final heater shut down will be one of two that warm the core of the spacecraft and its batteries. This would leave one remaining survival heater to run out on its own. "At that point, Phoenix will be at the mercy of Mars," says mission manager Chris Lewicki of JPL. Stay tuned for (just a few more) updates.
---
2008 Orionid Meteor Gallery
[IMO meteor counts] [2006 Orionids]